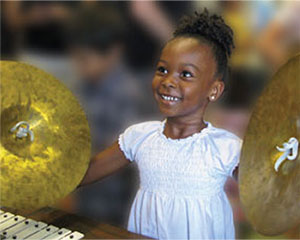 Instrument Petting Zoo
The Long Beach Symphony's Instrument Petting Zoo is back this summer! The Instrument Petting Zoo is a collection of orchestral instruments that travel around to neighborhood libraries and community events to provide children with a hands-on exploratory music education experience.  Our knowledgeable volunteers give a special presentation to explain how each instrument works, how to produce a sound, and how each instrument fits into the orchestra. Afterwards, children have the chance to put what they learned to the test and try each instrument.  IPZ is designed to pique the interest of young children in playing an instrument and create lifelong music lovers.
Instrument Petting Zoo Summer Dates
Thursday, June 29th ORIENTATION LOCATION/ TIME TBD
Wednesday, July 12th Los Altos Library 1:00 pm
Tuesday, July 18th DBT Center for Long Beach 3:30 pm
Wednesday, July 19th Bach Library 1:00 pm
Tuesday, July 25th Haskett Branch Library 3:30 pm
Wednesday, July 26th Michelle Obama Library 1:00 pm
Thursday, July 27th Mary Wilson Library 4:00 pm
Monday, July 31st Cerritos Library 3:30 pm
Wednesday, August 2nd Harte Library 1:00 pm
Wednesday, August 9th Billie Jean King Library 1:00 pm
Interested in volunteering?
The Long Beach Symphony will provide the supplies, instruments, and information for each IPZ, but we need volunteers!
Duties
· Give a quick demonstration on each instrument to the attending children/ adults
· Supervise children and adults when playing instruments
· Sanitize instruments from person to person
Qualifications
· An interest in music education
· Available for the Instrument Petting Zoo Orientation on Thursday, June 29th
· Available to volunteer for at least 2 dates
If you or someone you know are interested in volunteering, please sign-up at Instrument Petting Zoo: Instrument Petting Zoos Summer 2023 (signupgenius.com)
The Instrument Petting Zoo is generously sponsored by The Wolfe Foundation, and Ovation – Volunteers of the Long Beach Symphony
For questions and more information contact [email protected] or call (562) 436-3203 ext. 224.