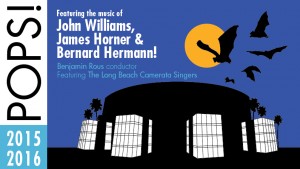 October 17, 2015 – 8:00 PM 
Halloween Symphony Spooktacular!
It's a night of Halloween musical treats and a few tricks that will keep you on the edge of your seat! Join the Long Beach Symphony POPS! Orchestra for an evening of haunting melodies that will include the works of John Williams, Bernard Hermann, James Horner and more! Special appearances by characters from the Queen Mary's Dark Harbor. Costumes encouraged!
Benjamin Rous, conductor
Featuring Long Beach Camerata Singers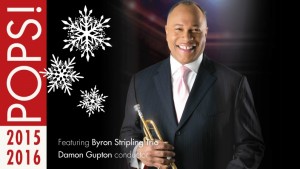 December 19, 2015 – 8:00 PM 
Holiday Swing Party with Byron Stripling
Expect virtuosic trumpet playing, raucous audience sing-alongs, and toe-tapping swing dancing as Byron Stripling brings celebratory orchestral arrangements to our Arena this holiday season. Featuring performances of "White Christmas," "What a Wonderful World," "I Have A Little Dreidel," "Santa Claus Is Comin' to Town," and more! Performance is great for all ages and parties of all sizes, including staff holiday parties! Bring your dancing shoes and get ready to jingle!
Damon Gupton, conductor
Featuring Byron Stripling Trio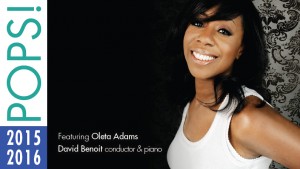 February 20, 2016 – 8:00 PM 
An Evening with Oleta Adams & David Benoit
Platinum recording artist Oleta Adams joins contemporary jazz pianist and composer David Benoit for an unforgettable orchestra event blending jazz, soul, and pop. Program to include Oleta Adams' signature hit, "Get Here" and some of Maestro Benoit's favorite compositions.
David Benoit, conductor & piano
Featuring Oleta Adams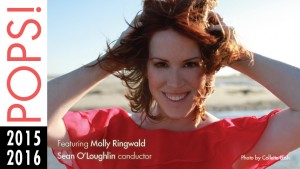 March 19, 2016 – 8:00 PM 
Broadway Blockbusters! With Special Guest Star, Molly Ringwald
Enjoy Broadway's most beloved show tunes performed by 1980's film icon and recording artist Molly Ringwald, making her Symphony debut. Guaranteed to have audiences leaving the concert humming!
Sean O'Loughlin, conductor
Featuring Molly Ringwald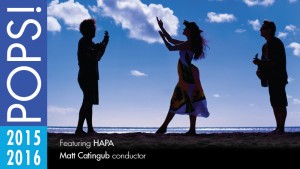 May 14, 2016 – 8:00 PM 
A Portrait of Paradise with HAPA
A showcase of traditional and popular Hawaiian music featuring hypnotic guitar runs woven around clear vocals with immaculate harmonies, HAPA is often described as the "Sound of Maui". Under the baton of Matt Catingub, long time Pops Conductor of the Honolulu and Hawaii symphonies, this concert is sure to evoke a feeling of beauty and serenity.
Matt Catingub, conductor
Featuring HAPA
*All artists and programming are subject to change.