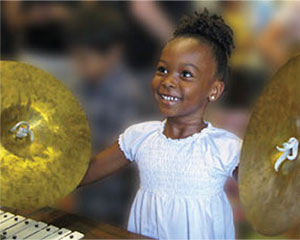 Instrument Petting Zoo
The Long Beach Symphony brings the Instrument Petting Zoo to several of the Long Beach neighborhood libraries and community events. Our volunteers give a special presentation designed to pique the interest of very young children in making music. They explain how the instruments of the orchestra work, how they make different sounds, and how they fit into the orchestra as a whole. After the presentation children have the opportunity to attempt creating a sound from each instrument. It is a unique opportunity for children and parents alike to explore the orchestra. The joy children express when making a sound on an instrument for the first time is truly priceless.
The Instrument Petting Zoo is generously sponsored by The Wolfe Foundation, and Ovation – Volunteers of the Long Beach Symphony
For questions and more information contact [email protected] or call (562) 436-3203 ext. 224.