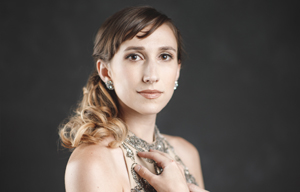 Anna Schubert
Soprano
Described as "luminously expressive" with a "silvery voice" that "moves from innocence to devastation with an actor's ease," Anna is passionate about bringing new voices, stories, and musical ideas to life. She enjoys an eclectic career that takes her all over the world – premiering new works by living composers, performing old favorites by dead ones, and recording a wide variety of sounds for film and television. Anna is thrilled to once again explore the spectrum of music making in her 2022|23 season, which she will open as the soprano soloist in Haydn's Creation with the LA Master Chorale.
A lover of new music and performance, Anna made her debut on the new music scene with the LA-based company The Industry, singing the ethereal soprano role of L in scenes from Anne LeBaron's LSD: The Opera.  Since then, she has performed in a stunning array of new productions and premieres, including the role of the Controller in Opera Omaha's production of Jonathan Dove's Flight, Bernstein's Mass with the LA Phil, and creating the role of Bibi in the world premiere of Ellen Reid's Pulitzer Prize-winning opera p r i s m with LA Opera and Beth Morrison Projects. Her performance in p r i s m was described as "revelatory" (Catherine Womack, I Care If You Listen), and subsequently led to a successful run at Theatro Municipal de São Paulo.
Anna also performs roles from the standard operatic canon and concert repertoire. Highlights include Orff's Carmina Burana, and myriad Baroque and Classical works such as Handel's Messiah and Dixit Dominus; Mozart's Exsultate, Jubilate, Requiem, Vesperae solennes de confessore, and Mass in C Minor; and Bach's St. Matthew Passion and Mein Herze schwimmt im Blut. Recently, she premiered a staged and reimagined version of Orlando di Lasso's Lagrime di San Pietro with 20 other singers from the LA Master Chorale, which launched a worldwide tour through the Ravinia Festival, the Salzburg Festival, and in Australia, Mexico, England, France, Germany, and several U.S. states.
Outside the world of classical vocals, Anna enjoys a stimulating and versatile career as a session singer. Her voice appears in various film and TV soundtracks, including The Lion King (2019), Mulan (2020), Star Wars: Episode IX – The Rise of Skywalker, Creed, Minions, as well as in Danny Elfman's latest album, Big Mess. Her solo soprano vocals can be heard dramatically soaring over orchestra and choir in the films Birds of Prey (2020) and Keanu (2016), as well as the Netflix series Midnight Mass.
Listen to Anna here, and get more information at annaschubertsoprano.com