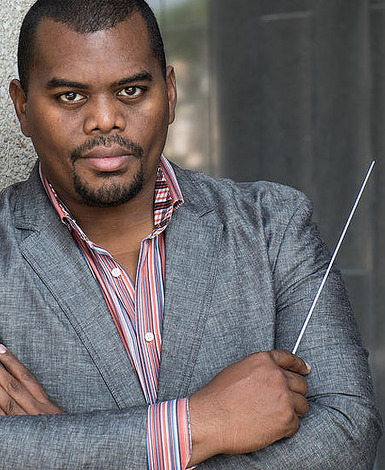 Anthony Parnther
Conductor
American conductor, Anthony Parnther, is the Music Director and Conductor of the San Bernardino Symphony Orchestra and the Southeast Symphony & Chorus in Los Angeles. He has conducted artists spanning every musical genre, including Joshua Bell, Jessye Norman, Yundi Li, Lynn Harrell, Frederica von Stade, Roderick Williams, Canadian Brass, Jennifer Holliday, Kanye West, Imagine Dragons, Omar Apollo, Ry X, and Alan Walker.
His recent guest conducting engagements include the Los Angeles Philharmonic, Atlanta Symphony, Los Angeles Opera, Mann Center Festival Orchestra, Chineke! Orchestra, Simfònica de Barcelona i Nacional de Catalunya, Jacaranda – Music at the Edge, Hear Now Music Festival, Pittsburgh Microtonal Festival, Hollywood Chamber Orchestra, BrightworkNewMusic, and the World Opera Forum in Madrid, Spain.
On the scoring stages of Los Angeles, London, Nashville, and San Francisco, Anthony has conducted recording sessions for many international feature film, television, and video game projects, including Encanto, Star Wars: The Mandalorian, Ghostbusters: Afterlife, Turning Red, Ice Age: Adventures of Buck Wild, League of Legends, American Dad, The Adam Project, Slumberland, Star Wars: Book of Boba Fett, Tenet, Arcane, Cheaper By The Dozen, Lost City, Little, The Hunt, Fargo, The Way Back, The Night Of, and 4400.
He has premiered or recorded works by Anthony Davis, George Walker, Florence Price, Zenobia Powell Perry, Errollyn Wallen, John Wineglass, Gary Powell Nash, Marian Harrison, Renee Baker, Samuel Coleridge Taylor, James Wilson, Phillip Herbert, Daniel Kidane, Chanda Dancy, and James Newton. In 2015, Anthony was profiled by Los Angeles' KCET/TV as a "Local Hero" for his extensive community outreach and advocacy for the performance of works by Black, Latino, and Women artists.
In addition to conducting, Anthony is an active bassoonist and contrabassoonist and has recorded on an extensive list of film and television soundtracks by Hollywood's preeminent composers, including John Williams, Terrence Blanchard, Alexandre Desplat, Danny Elfman, Bruce Broughton, Michael Giacchino, Mychael Danna, Ludwig Goransson, David Newman, John Powell, Alan Silvestri, and Hans Zimmer. Recent projects he has performed on include Star Wars: Episode IX -The Rise of Skywalker, The Simpsons, Animaniacs, Looney Tunes, Family Guy, Lion King, Coming 2 America, Mulan, Empire, The Kominsky Method, Only Murders in the Building, Moana, Suicide Squad, Star Trek Beyond, and countless more.
Anthony studied at Northwestern University and Yale University and resides in Los Angeles.