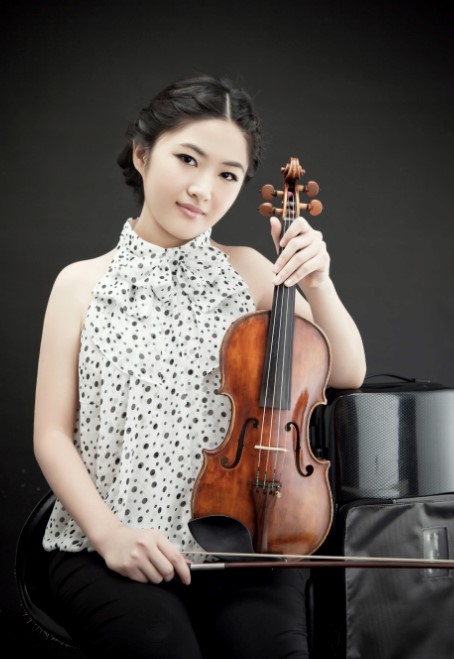 Chloe Chiu
Violin I
Vibrant violinist Chloe (Szu-Yun) Chiu is a passionate musical storyteller who brings a compelling blend of sincerity, artistry and technical proficiency to her work as a soloist, orchestral musician and chamber ensemblist.
Now based in the Los Angeles area, Chloe continues to shine in a number of orchestras, ensembles and as an in-demand soloist and studio musician. She holds current positions in the first violin section of the Hollywood Bowl Orchestra and as a sectional violinist in the Santa Barbara Symphony. She is also a substitute violinist for the Los Angeles Opera, Long Beach Opera, Pasadena Symphony, Downey Symphony, and the Burbank Philharmonic. Additionally, Chloe maintains a dedicated roster of private violin students and is part of a chamber group with fellow music school faculty members and orchestral performers that gives regular concerts in Orange County.
Poised at the bright dawn of a long career, Chloe has already garnered a long list of artistic accomplishments, awards, and appearances. She has excelled at prestigious competitions worldwide; she earned first prizes at the Taoyuan Competition, the Tainan Music Competition, the Taipei Music Competition, the Vienna National Violin Competition and the Hsing Tian Kong Music Competition, which was also a Superior Award. Additionally, she was named laureate in the Canetti International Violin Competition in Israel and a Grand Finalist in the Andrea Postachhini International Violin Competition in Italy.
As a touring musician, Chloe has traveled around the globe performing throughout Australia, Europe (Austria, Bulgaria, Italy), Asia (Singapore and Taiwan) and in Israel. A versatile interpreter of both contemporary and traditional music, she has sparkled as a member of piano quartets, string trios and as a violinist in numerous recording sessions for acclaimed singers and for feature films. Chloe has also been a featured artist on stage with superstar Elton John and the world-renowned genre-bending duo 2Cellos. She was profiled by the Los Angeles Times as a second violinist for Pacific Symphony. She has also performed as part of the Virginia Waring International Piano Competition and has been principal violinist for many concerts at USC and other orchestras in Southern California.
Born in Taiwan, Chloe began her musical journey at age seven when she began studying violin and was already delighting audiences with stunning performances by nine. After fine-tuning her technique and musicianship and building her violin repertoire throughout high school under the tutelage of Nanette Chen, she earned full scholarships for all her graduate and post-graduate studies. She has a Bachelors of Music degree from the National University of Singapore, Yong Siew Toh Conservatory of Music, where she studied with Qian Zhou, a Master of Music Degree from Johns Hopkins University, Peabody Institute of Music, where she studied under renowned artist and pedagogue Victor Danchenko. She also completed the Graduate Certificate Program at the University of Southern California, Thornton School of Music, learning from former concertmaster of the New York Philharmonic Glenn Dicterow.