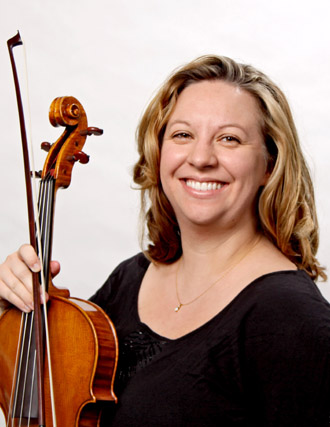 Colleen Sugata
Viola
Colleen Sugata joined the Long Beach Symphony in October of 2011. She has been a resident of Los Angeles, CA since 2008, where she has performed with the Los Angeles Philharmonic, Los Angeles Master Chorale and the Riverside County Philharmonic. During the summers she is the principal violist of the Lyrique-en-Mer Opera Festival in Belle Île, France. Prior to moving to California, Ms. Sugata performed with the Pittsburgh Symphony for three years. She has recorded with the Los Angeles Philharmonic under the Deutsche Grammophon label and the Brahms cycle with the Pittsburgh Symphony.
Colleen has attended various music festivals including Aspen, Sarasota, and Round Top and was selected as a performer with the Music at Menlo Institute, where her performances were broadcast on Minnesota Public Radio. She was also selected to perform Aaron Copland's original 13 instrument version of Appalachian Spring at Carnegie Hall, under the direction of Michael Tilson Thomas.
Colleen received both her Bachelor and Master's degrees from the Cleveland Institute of Music, studying with Jeffrey Irvine and Lynne Ramsey. Aside from performing, Colleen enjoys teaching, sewing and taking care of her rescue dog, Thomas.