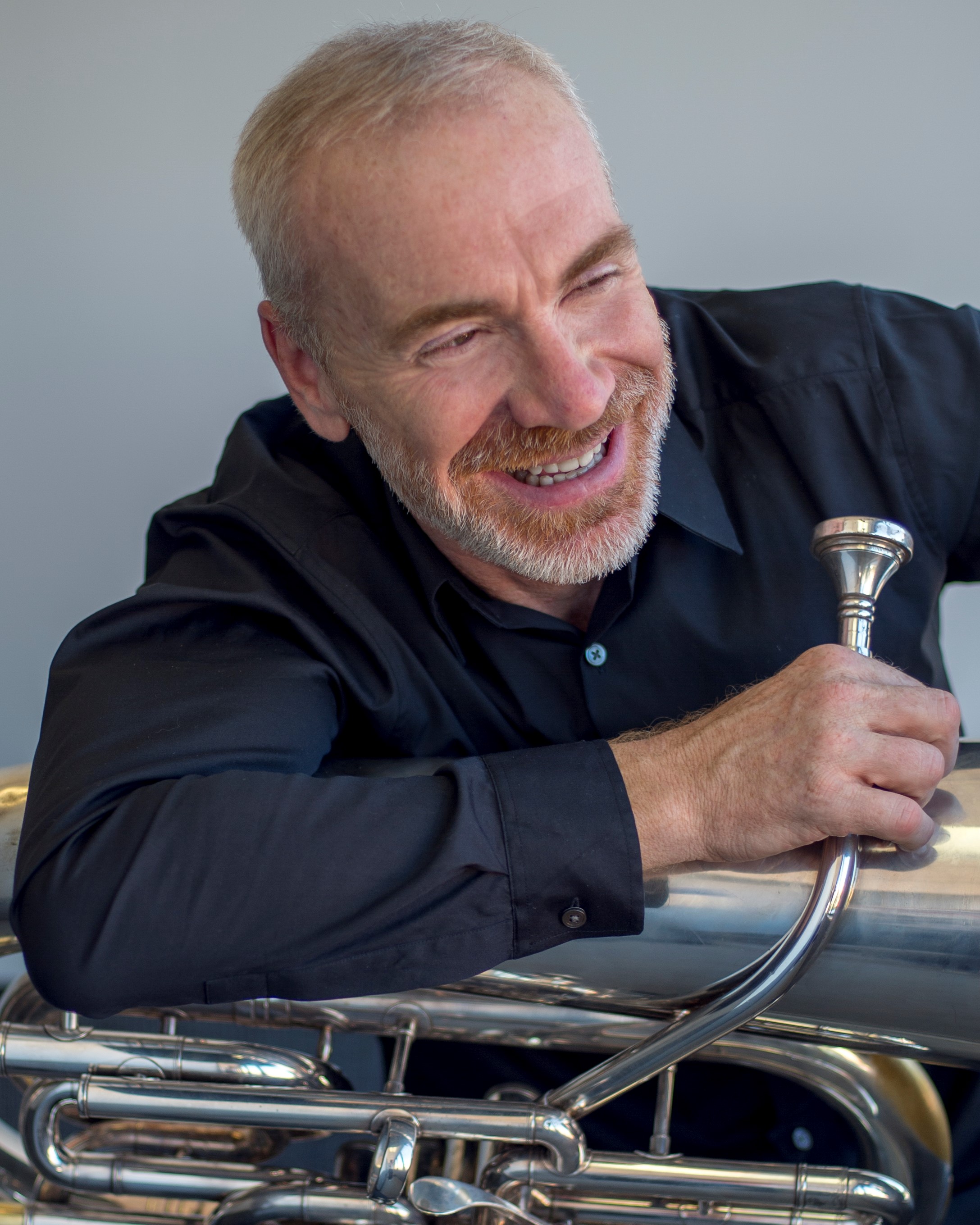 Doug Tornquist
Tuba
Tenured in 1998
"A player of astonishing flamboyance" (Los Angeles Times) and "impressive dash" (Orange County Register), Doug Tornquist has been a part of Southern California's freelance musical world since 1987, including serving as Principal Tuba for Long Beach Symphony.
He grew up on a farm in the San Joaquin Valley, and came to Los Angeles for his Bachelor's degree at the University of Southern California where he studied with Jim Self and Tommy Johnson. He earned his Master's degree from Wichita State University, where he played with the WSU faculty brass quintet, the Wichita Symphony Orchestra and toured with the St. Louis Symphony under the baton of Leonard Slatkin.
Doug returned to Los Angeles in 1987 to earn his Doctor of Musical Arts degree from USC and soon became a busy freelance performer, playing everywhere from amusement parks to the ballet, opera and symphony (sometimes on the same day!). He has played with the Los Angeles Philharmonic, the Los Angeles Opera, Pacific Symphony, the Hollywood Bowl Orchestra, Long Beach Symphony and all the regional orchestras in Southern California and under the batons of Erich Leinsdorf, Pierre Boulez, Zubin Mehta, Esa Pekka Salonen, Gustavo Dudamel, Witold Lutoslawski and Valerie Gergiev. He has recorded with Diana Krall, Neil Diamond, Barbra Streisand, Josh Groban, Randy Newman, Meat Loaf, and Beck, among others. The first time he was invited to play on a film score was in 1989 for Edward Scissorhands. Since then he's played on the soundtracks of over 400 films, TV shows and video games. He was the voice of Wreck it Ralph and played on John Williams' two most recent scores Star Wars: The Force Awakens and The Big Friendly Giant.
Among his more notable recordings are the GRAMMY® winning premiere recording of the Penderecki Credo (with the Oregon Bach Festival), two discs with Quintadillac, a German brass quintet, and the song from John Lithgow's childrens' book I'm a Manatee which features him as a soloist. He recently released a solo CD, Feels Like Far, and produced a CD of holiday brass music, Fiat Lux. He teaches at the University of Southern California, California Institute of the Arts, and the Colburn School.
Tornquist will be playing the instrument he was awarded as a prize winner at the 1997 International Tuba and Euphonium Competition in Riva del Garda, Italy. This season marks the beginning of his twentieth season with the Long Beach Symphony.
Photo credit: Joe Meyer