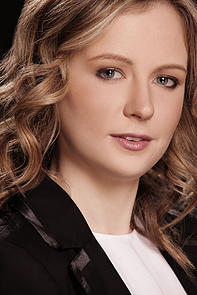 Gemma New
Conductor
Renowned for her insightful interpretations and thrilling performances, New Zealand-born conductor Gemma New currently serves as Music Director for the Hamilton Philharmonic Orchestra in Ontario, Canada, Associate Conductor for the New Jersey Symphony Orchestra, and Founder and Director of the Lunar Ensemble, a contemporary music collective in Baltimore, Maryland. For the 2015-16 season, Ms. New has additional engagements with several ensembles, most notably the Long Beach and Toledo Symphonies, and the Chamber Orchestra of San Antonio.
As one of two Dudamel Conducting Fellows with the Los Angeles Philharmonic for the 2014-15 Season, Ms. New led nine LA Phil 'Symphonies for Youth', 'Symphonies for Schools', and 'Community' concerts and covered frequently for their Music Director, Gustavo Dudamel, Conductor Laureate Esa-Pekka Salonen and other guest conductors. For the month of September 2014, at the invitation of Maestro Kurt Masur, Ms. New resided in Leipzig, Germany as a Felix Mendelssohn-Bartholdy Fellow, where she studied Mendelssohn's music under Maestro Masur and led the Leipziger Symphonieorchester in the historic Lindensaal of Markkleeberg.
In recent seasons Ms. New has guest conducted several orchestras, including the Atlanta and Miami Symphonies in the USA, as well as the Christchurch Symphony and Opus Orchestras in New Zealand. In 2013 Ms. New made her Carnegie Hall conducting debut, leading works by Adams, Norman and Ives on the American Soundscapes series. That same year she was selected as the David A. Karetsky Conducting Fellow at the American Academy of Conducting at the Aspen Music Festival. One year prior Ms. New was awarded the Ansbacher Fellowship, in which she was selected by members of the Vienna Philharmonic to take up residence at the Salzburg Music Festival.
Under her leadership, the Lunar Ensemble has premiered almost 40 works since 2011 and held composition residencies at several US universities, including the Peabody Conservatory in Baltimore MD, Frost School of Music in Miami FL and Tulane University in New Orleans LA. Another Lunar Ensemble highlight was the Pierrot Centenary Project, which united all fifty poems of Albert Giraud's Pierrot lunaire through commissioned works by selected composers, culminating in the release of Lunar's first album, featuring those works alongside Schoenberg's seminal Pierrot lunaire.
Ms. New's operatic conducting focuses on contemporary repertoire by composers such as Jake Runestad, Emily Koh and Joanna Lee. She has also worked on several operas by Wolfgang Amadeus Mozart, as well as Giuseppe Verdi's Il Trovatore and L'enfant et les sortilèges by Maurice Ravel.
Passionate about music education, Ms. New has enjoyed working with the NJSO Academy Orchestra and New Jersey All State Orchestra during her time as Associate Conductor for the NJSO. Between 2007 and 2009, Ms. New conducted the Christchurch Youth Orchestra, which grew from 40 to 70 players under her leadership and performed upwards of nine concerts a year.
Ms. New holds a Master of Music degree in orchestral conducting from the Peabody Institute in Baltimore, where she studied with Gustav Meier and Markand Thakar. She graduated from the University of Canterbury, New Zealand with a Bachelor of Music (Honors) in violin performance.