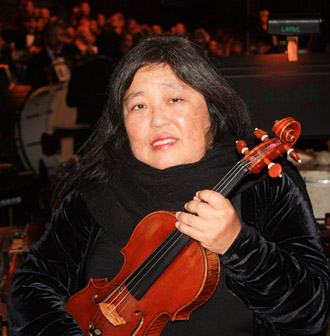 Jacqueline Suzuki
Violin II
Tenured in 1982
JACQUELINE SUZUKI, violin, is a longtime member of the Long Beach and Santa Barbara Symphonies.
She initiated and curates a twice monthly chamber music series, the Free Admission Glendale Noon Concerts. A current schedule may be seen at http://www.glendalenoonconcerts.blogspot.com
A native of San Francisco, she began her earliest chamber music studies on scholarship at the San Francisco Conservatory. She has performance degrees from the Mannes College of Music (BM), where she studied with William Kroll, and the California Institute of the Arts (MFA).
As a Los Angeles freelancer, she has performed with many ensembles and in many genres, from rock, jazz, Latin and Arabic, to playing in the pit for the Bolshoi Ballet and onstage with the Three Tenors. She has recorded with diverse artists: Snoop Dogg, Neil Sedaka, Leonard Cohen, Whitney Houston, Bocelli, Lalo Schifrin, McCoy Tyner, Placido Domingo and many others, and appears on recordings by the Long Beach, Santa Barbara and Pacific Symphonies. She has spent summers at the Peter Britt, Oregon Coast, Carmel Bach and Cabrillo Festivals and has performed in a string quartet "in residence" on a raft trip down the Green River in Utah. Tours have taken her many times to Japan, Taiwan, Mexico, Canada, Europe, the Middle East and throughout the US