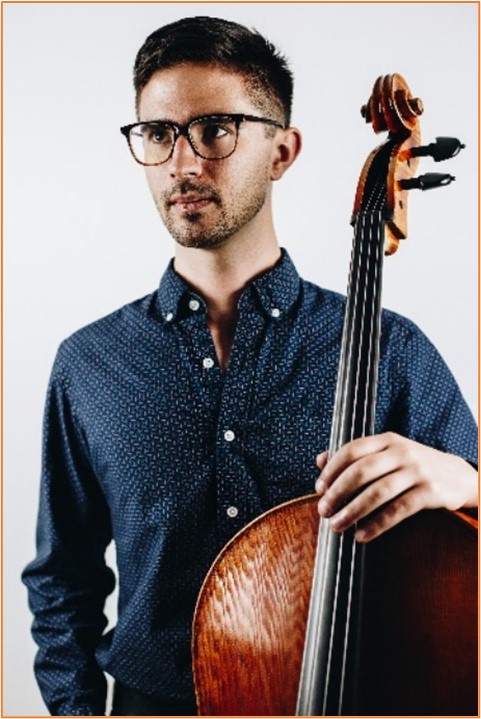 Jake Saunders
Cello
https://jakesaunderscellist.com/
Dr. Jake Saunders is a cellist, educator, and collaborative artist based in Boise, Idaho. He is active within the contemporary-classical, chamber, symphonic, and popular music realms.
An omnivorous cellist, Saunders approaches music both contemporary and historical with creativity and commitment. He is the founder and Artistic Director of 208 Ensemble, the first professional contemporary music ensemble in Idaho. Since 2014, 208 Ensemble has presented Idaho the premiere of more than 50 chamber works to diverse audiences. The ensemble's flagship project, Avant-Garden, commissions new chamber music from emerging and historically underrepresented composers. As cellist of The Playground Ensemble and Sphere Ensemble, Jake is also on the vanguard of the contemporary scene in Denver, CO.
As a recording artist, Saunders is featured on the soundtrack for the film The Social Dilemma. He has also collaborated on forthcoming studio releases by LA-based artists The Naked and Famous and Luna Shadows. Saunders can be heard on recent releases by Idaho-based artists East Forest, LED, Quiet Arrows, and Tispur. His forthcoming solo album, One by One, includes works for cello by Bright Sheng, Nathalie Joachim, Nina Shekhar, and Sarah Kirkland-Snider.
Additionally, Saunders serves as Associate Principal with the Boise Philharmonic, Section Cellist with the Long Beach Symphony Orchestra and is a substitute cellist with the Los Angeles Philharmonic. Orchestras he's previously held principal positions in include Symphony Tacoma and Opera Idaho. Saunders received his Doctor of Musical Arts degree from University of Colorado Boulder in 2021, where he served as teaching assistant for Prof. David Requiro.