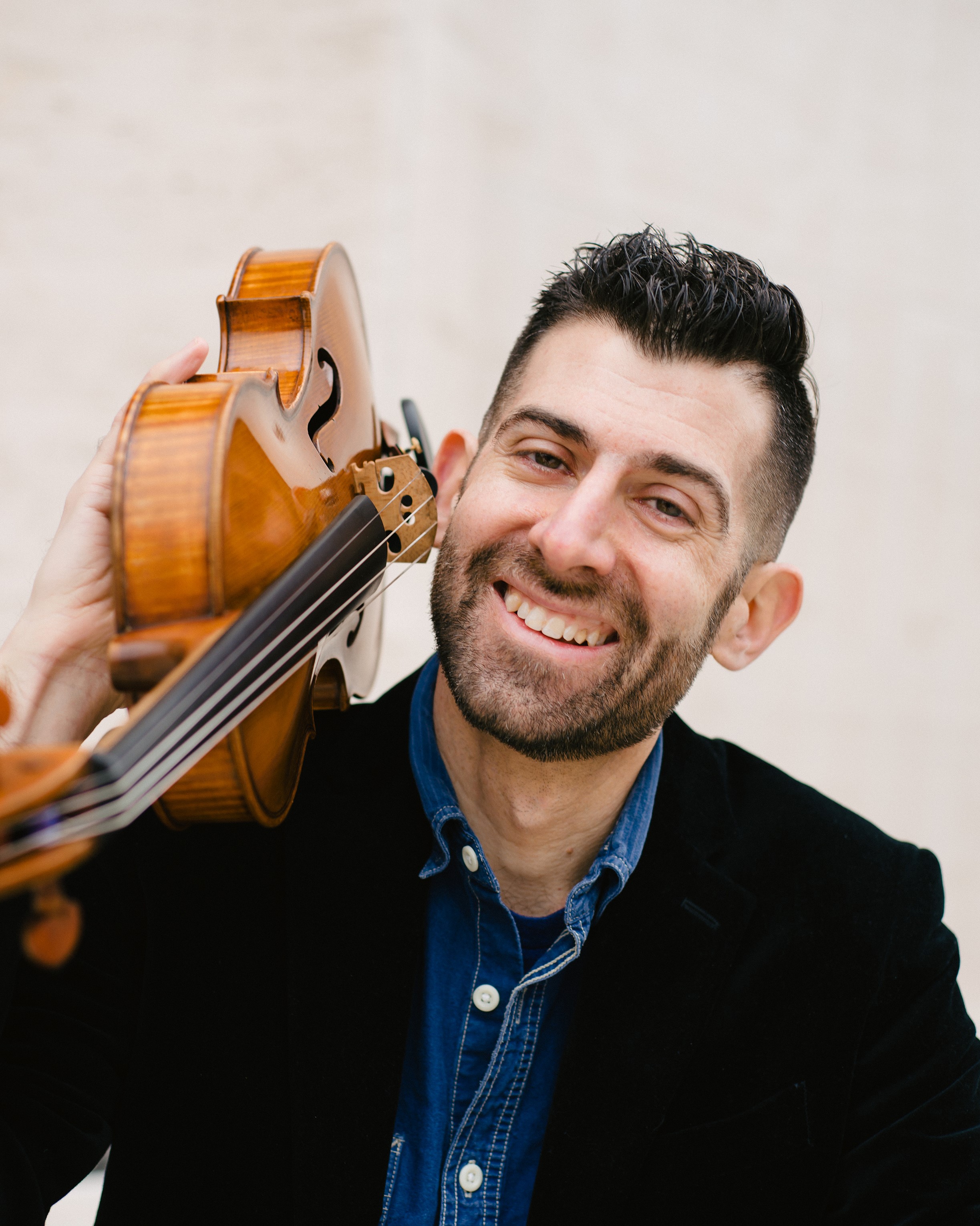 Jonah Sirota
Viola
Composer and violist Jonah Sirota is a new breed of multi-talented musician. Equally at home writing concert music, scoring soundtracks for TV, film, and videogames, and performing on the concert stage and in recording sessions, Jonah creates and recreates vivid music for a wide variety of audiences.  His debut solo recording STRONG SAD, a 2018 National Sawdust Tracks release, features premiere recordings of new elegies for the viola by Nico Muhly, Paola Prestini, Arthur Joseph McCaffrey, Valgeir Sigurðsson, Robert Sirota, Kurt Knecht, and Jonah himself.  His orchestral work Grounded was recently performed by major youth orchestras in New York and Massachusetts, and his soundtrack to the Public Television documentary Return of the American Bison was nominated for a 2019 Heartland Emmy Award.
Jonah was the violist of the recently-disbanded Chiara String Quartet for all of its 18 years. With the Chiara Quartet, he toured internationally, recorded seven albums and played in numerous major venues worldwide. The Chiara Quartet performed much of the string quartet repertoire from memory ('By Heart"), including the complete string quartets of Béla Bartók, a recording of which was released in 2016 on Azica Records. The group was honored with a Grammy nomination (2011, Best Contemporary Classical Composition for Jefferson Friedman's 3rd String Quartet on the New Amsterdam label), the ASCAP/CMA Adventurous Programming Award, the Guarneri Quartet Award, top prizes at the Paolo Borciani Competition and the Astral Artistic Services Audition, and a Gold Medal at the Fischoff Competition. Their albums have been featured on N.P.R., and in "Best of the Year" lists from the Boston Globe, the New York Times, and the Wall Street Journal. In the 2015-2016 season, the group was in residence at the Metropolitan Museum in New York, a venue to which the group returned for their farewell New York concert in May of 2018. As a concert violist, Jonah performs with pianist Molly Morkoski, with organist Kurt Knecht as the improv duo Mondegreen, and as a member of the revived California String Quartet.  He is sought after as a Hollywood session player and regularly plays with major orchestras, including the Long Beach Symphony, where he serves as Assistant Principal viola.
Jonah is also known as a pedagogue. He coaches chamber music at the Colburn School, and gives viola and composition masterclasses and residencies across the country. His "practice self-audit" has been used by many viola students to facilitate the self-evolution their own improvement and creativity in the practice room, while his Practice Tune-Up for professional and adult amateur violists has given many the chance to reconnect with their own inner passion on the instrument. Mr. Sirota has taught at the Juilliard School, at Harvard University, and at the University of Nebraska-Lincoln Glenn Korff School of Music (where he helped build a world-class chamber music program), as well as at Greenwood Music Camp. He resides in Los Angeles, CA.
Photo credit: Walker Pickering