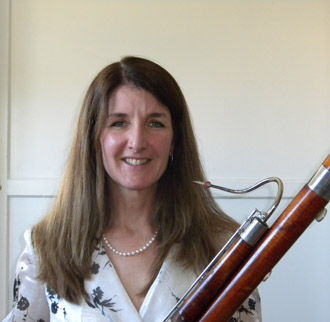 Judith Farmer
Bassoon
Tenured in 1999
Judith Farmer enjoys a rich and varied career as a chamber musician, orchestra musician, soloist and teacher. She received her education at Indiana University and at the Hochschule fuer Musik in Vienna. From 1984-1996 she was principal bassoonist of the Austrian Radio Symphony Orchestra, performed and toured regularly with the Camerata Academica Salzburg under Sandor Vegh and with numerous chamber music ensembles in Vienna. Ms. Farmer has appeared as a soloist in the U.S. and in Europe, including the Salzburg Festival, and has participated in chamber music festivals in Prussia Cove (UK), Martha's Vineyard (MA), Salem (NY), La Jolla (CA), Oaxaca (Mexico), Beverly Hills (CA) and Garth Newel (VA). For the 1995-96 season she held the position of visiting professor at the Hochschule fuer Musik in Graz, Austria. She has also taught at the International Mozart Academy in Prague, the Chautauqua Music Festival and the Henry Mancini Institute.
In 1996 Ms. Farmer moved to Los Angeles and since then has performed with the Los Angeles Philharmonic – including as guest associate principal in spring of 2009 – as well as for over 100 major motion pictures. She is currently principal bassoonist of the Santa Barbara Chamber Orchestra, a member of the Los Angeles Opera Orchestra and the Long Beach Symphony.
Judith Farmer teaches bassoon at the University of Southern California. She is an avid chamber musician, who enjoys collaborating with composers on new works and has had a number of works written and dedicated to her. Her recordings as a soloist and chamber musician are available on Albany, Ex-House and Orfeo Records.
Critics have described bassoonist Judith Farmer's playing as "impeccable" (American Record Guide), "masterly" (Fanfare Magazine) and "brilliant" (Kronenzeitung, Austria). Barnaby Rayfield also noted in the July/August 2011 issue of Fanfare Magazine: " … the playing on [composer Gernot Wolfgang's CD Short Stories] is uniformly excellent, especially from Judith Farmer on bassoon, finding expressive extremes of that instrument I didn't think possible."