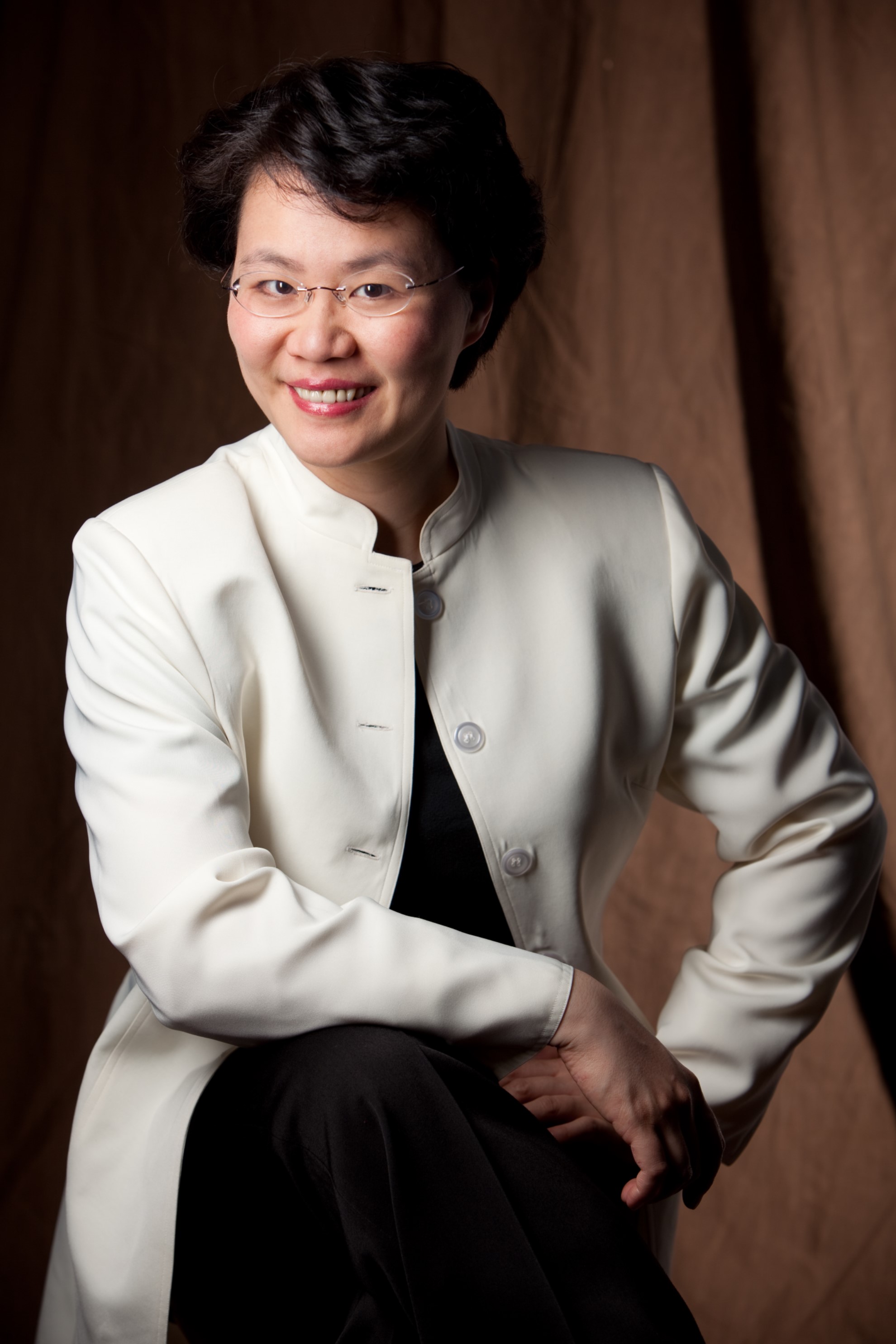 Mei-Ann Chen
Conductor
http://meiannchen.com/bio.html
An innovative and passionate force both on and off the conductor's podium, Mei-Ann Chen is one of America's most dynamic young conductors. Music Director of the Memphis Symphony since 2010 and of the Chicago Sinfonietta since 2011, she has infused both orchestras with energy, enthusiasm and high-level music-making, galvanizing their audiences and communities alike. A sought-after guest conductor, Ms. Chen's reputation as a compelling communicator has resulted in growing popularity with orchestras both nationally and internationally.
Following debut performances with Sweden's Gothenburg Symphony, Canada's Calgary Philharmonic, and Brazil's Minas Gerais Philharmonic Orchestra, closing the season for the Wintergreen Festival in Virginia and the Texas Music Festival in Houston, and concerts with Grant Park Music Festival in Chicago, Maestra Chen's 2014-15 season includes concerts throughout the United States and in Canada, Germany, the Netherlands, and Taiwan. Performances of note include Maestra Chen leading Germany's Badische Staatskapelle Karlsruhe and Taiwan's National Symphony Orchestra in November 2014, and San Francisco Symphony's renowned Chinese New Year celebration and the Netherlands Philharmonic at the Concertgebouw in February 2015.
Recent performance highlights include an impressive debut with the Indianapolis Symphony as a last-minute step-in engagement, debuts with the Chicago Symphony on its subscription series, the San Francisco Symphony, Detroit Symphony, Houston Symphony, Cincinnati Symphony (where she stepped in on short notice and was immediately re-engaged), and San Diego Symphony nationally, and engagements abroad with Austria's Gross Orchester Graz, Brazil's São Paulo Symphony, Finland's Tampere Philharmonic, the Netherlands Philharmonic, NorrlandsOperan (Norrland's Opera), the National Taiwan Symphony Orchestra, and Sweden's Göteborgs Symfoniker. Among her many North American guesting credits are appearances with the symphony orchestras of Atlanta, Baltimore, Colorado, Columbus, Florida, Fort Worth, Grand Rapids, Nashville, North Carolina, Oregon, Pacific, Phoenix, Seattle, Toronto, Vancouver, and the National Symphony in Washington, D.C. Overseas guesting credits include the principal Danish orchestras, the BBC Scottish Symphony, Bournemouth Symphony, Orquestra Sinfonica Nacional de Mexico, Norwegian Radio Orchestra, and the Trondheim Symphony. U.S. summer music festivals credits include the Aspen Music Festival, Britt, Grand Teton, Wintergreen, and the Chautauqua Institute.
In addition to the 2012 Helen M. Thompson Award from the League of American Orchestras, Mei-Ann Chen's skill on the podium, and as a music educator, has been recognized with several honors, awards and posts. In 2005 Ms. Chen became the first woman to win Copenhagen's esteemed Malko Competition. She served as Assistant Conductor of the Atlanta Symphony and Baltimore Symphony, under the aegis of the League of American Orchestras, with the Oregon symphony as well. Recipient of the 2007 Taki Concordia Fellowship, she has appeared jointly with Marin Alsop and Stefan Sanderling in highly acclaimed subscription concerts with the Baltimore Symphony, Colorado Symphony and Florida Orchestra. In 2002, Ms. Chen was unanimously selected as Music Director of the Portland Youth Philharmonic in Oregon, the oldest of its kind and a model for many youth orchestras in the United States. During her five-year tenure with the orchestra, she led its sold-out debut in Carnegie Hall, received an ASCAP award for innovative programming, and developed new and unique musicianship programs for the orchestra's members. She was also the recipient of a Sunburst Award from Young Audiences for her contribution to music education.
Born in Taiwan, Mei-Ann Chen has lived in the United States since 1989. She was the first student in New England Conservatory's history to receive master's degrees, simultaneously, in both violin and conducting, later studying with Kenneth Kiesler at the University of Michigan, where she earned a Doctor of Musical Arts degree in conducting. Ms. Chen also participated in the National Conducting Institute in Washington, D.C. and at the American Academy of Conducting in Aspen.
Photo credit: Rosalie O'Connor