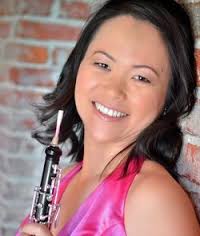 Rong-Huey Liu
Oboe
Rong Huey Liu is hailed by her colleagues as "a most expressive oboist with a beautiful dark sound" and by conductor Tomasz Golka as "…. a phenomenal oboist." Taiwanese-American Rong‐Huey Liu is currently the principal oboist for the Long Beach Symphony, Fresno Philharmonic, Reno Chamber Orchestra, and the Riverside County Philharmonic. She also performs with orchestras such as the Los Angeles Philharmonic, Los Angeles Opera, New West Symphony, Pacific Symphony, Pasadena Symphony, Reno Philharmonic, San Diego Symphony, and the Santa Barbara Symphony. As a Hollywood studio musician, Dr. Liu has performed with Jackie Evancho and is the principal oboist for Andrea Bocelli's annual west coast touring orchestra. Her playing can be heard on recordings with Andrea Bocelli, Josh Groban, David Benoit, Bright Eyes, Ron Isley, Mariachi Champaña Nevín, Laura Pursell, Paul Steel, Calico Winds and movie sound track "Fireflies in the Garden", to name a few.
At age seventeen, Dr. Liu won first place in the Taichung Regional Oboe Competition and the Taiwan National Oboe Competition, which lead her to study in the United States. Upon arrival, she continued to win the performance award from the Taiwan National Symphony Orchestra, scholarships from Taiwanese College Music competition, first prize award from the Harvard Musical Association, scholarships from the Foundation for Chinese Performing Arts, and the Spotlight Awards from Los Angeles Philharmonic Association.
Dr. Liu earned a Bachelor's and Master's in Music from the Manhattan School of Music and a Doctorate of Musical Arts from the University of Southern California with an award from Phi Beta Kappa and a membership of Pi Kappa Lambda. Among her teachers are Rong-Yi Liu, Joseph Robinsons and David Weiss. She is currently an Adjunct Professor of Oboe at the La Sierra University, Riverside City College and California State University Fullerton.
As an avid chamber music soloist, Dr. Liu has been invited to perform in the Sundays Live, Grand Performance, Ojai Summer Music Festival, Bruman Chamber Music Summer Festival, Cactus Pear Music Festival and a guest artist for Unbound Chamber Music and FOOSA. Rong-Huey has performed Marcello Oboe Concerto in Weil Recital/Carnegie Hall, Kalliwoda Oboe Concertino at Taichung Chung-­‐Shin Concert Hall, Mozart Oboe Concerto, Handel Concerto Gross and Mozart Sinfonia Concertante at the Holt Memorial Hall and Riverside Municipal Auditorium, Corigliano Concerto for Oboe and Orchestra at the Fox Theater with Riverside County Philharmonic and at the Nightingale Concert Hall with Reno Chamber Orchestra, Bach Concerto for Oboe and Violin with Grammy nominee violinist, James Buswell for the Neveda Chamber Music Festival and violinist Limor Toren‐Immerman with Mozart Classic Orchestra. She also performed Mozart's Oboe Concerto in 2014 as a last minute step in for the missing soloist with the Reno Chamber Orchestra. In December 2014, she has recorded Rhapsody for Oboe and Orchestra by Walter Saul under the direction of Theodore Kuchar with the National Symphony Orchestra of Ukraine and it will be released by Naxos.