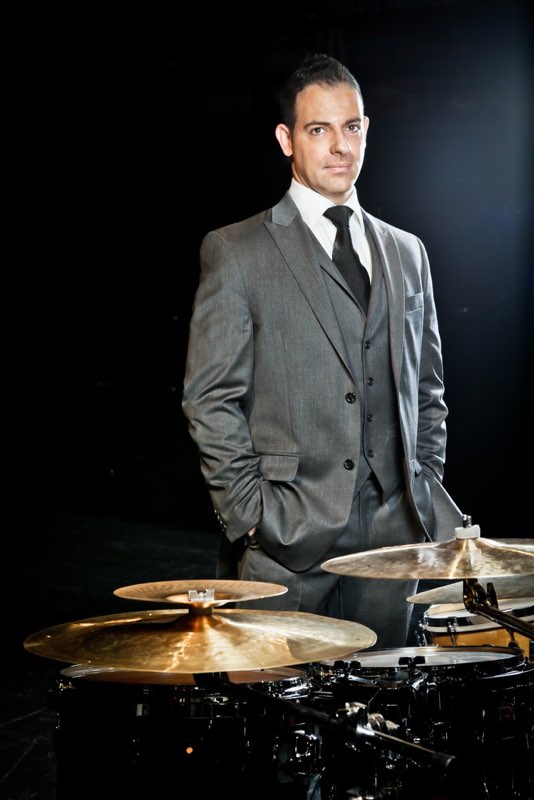 Steve Moretti
Drums
http://www.stevemoretti.com/
Drummer/percussionist/producer Steve Moretti is a two-time GRAMMY award nominee and winner of two Telly Awards. His performances have been described as "powerful" (World-Herald) and "full of subtle nuance and excitement" (Cleveland Classic). Steve has had an extensive recording career playing on over 30 nationally released recordings. He recently made his movie debut playing live in the 2014 Clint Eastwood film, Jersey Boys.
Recognized for his musicianship and versatility in multiple styles, Steve has performed with numerous vocal and instrumental artists from Michael McDonald, Kenny Loggins, Jo Dee Messina, Arturo Sandoval, Toni Tennille, Lionel Hampton, Dee Dee Bridgewater, Lorna Luft, and Michael Brecker to The Coasters, The Pointer Sisters, The Temptations and Louie Bellson. He toured with Matt Catingub and the legendary Rosemary Clooney for six years and recorded two GRAMMY nominated CDs with them on Concord Records: Sentimental Journey and The Last Concert. He has appeared on the Today Show, The View, the Rosie O'Donnell Show and Christmas Special, and an NBC special, An Evening with Scott Hamilton and Friends, featuring Michael Feinstein and Darlene Love, as well as appearing on A&E, PBS, and Oregon "ArtBeat."
Frequently engaged for symphonic drum set performances touring with Pops conductors Matt Catingub and Michael Krajewski, upcoming and recent concerts include the Atlanta, Cincinnati, Cleveland, Columbus, Colorado Springs, Dayton, Edmonton, Florida, Houston, Kitchener-Waterloo, Nashville, Omaha symphony orchestras, the Glendale Pops Orchestra, New Hampshire Music Festival, and Hyogo Performing Arts Center Orchestra (Kobe, Japan).
Steve is co-founder, President & CEO and drummer for Macon Pops, a new pops orchestra he has created in his hometown of Macon, GA with his long-time collaborator, conductor/performer/arranger Matt Catingub.
Another facet of Steve's career is his production company, Morettiman Music™. Recent projects include producing the music for the nationally televised PBS special A Grand Mercer Christmas and for the recordings of Hip-Hop artist Floco Torres, soprano Leah Partiridge, violinist Amy Schwartz Moretti, and CityMusic Cleveland with cellist Matt Haimovitz, Daniel Rachev conducting, and a live, all-Mozart concert, Joel Smirnoff conducting.
Steve was musical arranger and producer for A Little More Soul, Macon's Gateway Initiative inaugural project, and received a 2011 Telly Award for Sound Design (from 13,000 submissions), which was one of four Telly Awards received by the project. With the Gateway Initiative, he was honored by the American Advertising Federation for creative excellence with a 2010-2011 National Silver ADDY® Award (from 50,000 submissions) for A Little More Soul Music with Lyrics. The It's Hotter Here campaign received nine local awards, including Best in Show, and advanced to win District Gold for Best Sound. In 2012, Steve was again recognized with a Telly Award for Sound Design, this time for the CD recording of Hip Hop artist Floco Torres.
Steve is a Creative Team Member of the Atlanta-based music licensing company, Placement Music. Their music was featured on Super Bowl XLV, XLVII (Declaration Anthem and Heart of Independence), Fox Sports, NASCAR, Mean Girls 2, Drop Dead Diva and can be heard at the Georgia Dome during the Atlanta Falcons' games.
Currently serving his second term on the Board of Governors of the Atlanta Chapter of the GRAMMY Recording Academy and as a member of the Board of Directors of the Otis Redding Foundation, Steve is endorsed by Pearl Drums, Paiste Cymbals, Aquarian Drum Heads, Audix Microphones, Future Sonics Ear Monitors and Vic Firth Sticks. His Bachelor of Music in Percussion Performance is from the University of Redlands and his Master of Arts in Music Performance is from California State University at Hayward.
Photo credit: Maryann Bates