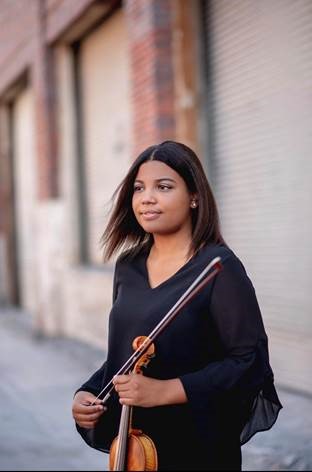 Sydney Adedamola
Violin II
Hailing from Boston, Massachusetts, Sydney Adedamola recently graduated in May 2018 with her Bachelors in Music from the University of Southern California's Thornton School of Music where she studied with Dr. Lina Bahn. During her time in Los Angeles she has held the position of principal second violin of USC Symphony, been a member of the Young Musician Foundation's Debut Chamber Orchestra and performed in masterclasses taught my various distinguished musicians such as Midori Goto, Paul Watkins, Lawrence Dutton, and Michael Tree.
She spent the past summer in Breckenridge, Colorado as a soloist with and member of the National Repertory Orchestra. Sydney has won prizes in multiple international competitions including A-Muse the World: Young Promise and American Protégé and has performed in concert halls throughout the United States including Walt Disney Concert Hall, Carnegie Hall and Symphony Hall. In March of 2014, she was selected as a soloist on a tour throughout Ireland with the Milton Academy Chamber Orchestra.
Sydney is currently a recipient of the Los Angeles Orchestra Fellowship, a collaboration between the Los Angeles Chamber Orchestra (LACO), the Inner City Youth Orchestra of Los Angeles (ICYOLA) and the University of Southern California. As a Fellow, she is pursuing her Graduate Certificate at USC under the tutelage of Margaret Batjer and Bing Wang whilst playing with both LACO and ICYOLA.