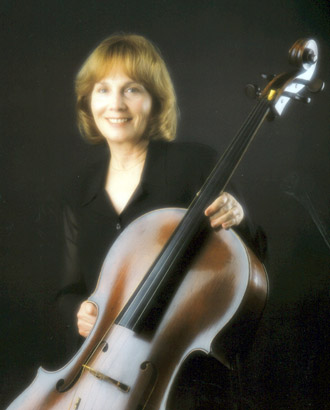 Victoria Bacon
Cello
Tenured in 1970
Victoria Bacon was born in Los Angeles and raised in Long Beach, California. A student of the University of Southern California's Preparatory Division, she also attended the Music Academy of the West and graduated from California State University at Long Beach, with a Bachelor of Music degree in cello performance. Her teachers were Gabor Rejto, Edgar Lustgarten, and Bernard Greenhouse.
During the summers, Victoria has performed for the Pageant of the Masters in Laguna Beach, Long Beach and Pacific symphonies, and the Flagstaff and Carmel Bach festivals. She has played in the Debut Orchestra, the Utah Symphony, Long Beach Opera, Long Beach, Downey, Pacific and Orange County (principal cello) symphonies, Ballet West, New York City Ballet, Disneyland's Candlelight Orchestra, The Gary Bonner Singers Orchestra (principal cello), and The Fab Four (Beatles).
Musical theater experience has included playing for the Long Beach Civic Light Opera, the theaters of La Mirada, and San Gabriel and the Laguna Playhouse.
Victoria has performed with a variety of chamber groups, including La Mer Quartet, the Lyric String Quintet, Pacific Strings, the Renaissance Players and a Long Beach Symphony string quartet (part of LBSO's education program).
She has taught cello for Saddleback College, Vanguard University, Pacific Symphony, Orange County Youth, Long Beach All-District, Pacific Symphony Youth, and Anaheim GATE orchestras, the Youth Center in Los Alamitos and in her studio.
Her most rewarding and challenging experience has been in raising four musical, (now adult) children. Victoria is a second-generation professional musician. Her father, Roger Bacon, performed with various Big Bands across the United States, and, later, with his own band in the Long Beach/Los Angeles area for many years. Currently, he and her mother enjoy attending LBSO concerts.