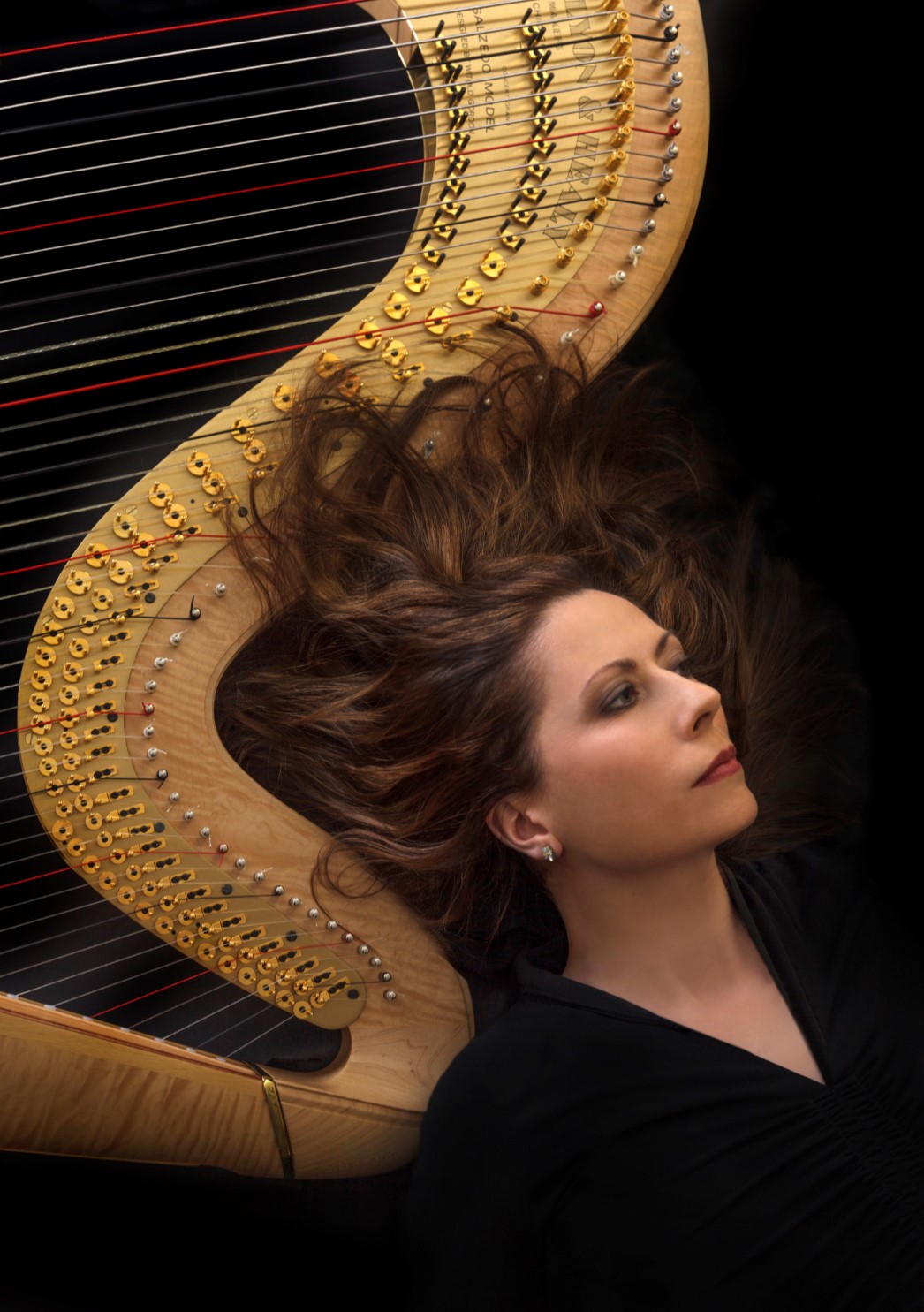 Yolanda Kondonassis
Harp
https://www.yolandaharp.com
Yolanda Kondonassis is celebrated as one of the world's premier solo harpists and is widely regarded as today's most recorded classical harpist. With "a range of color that's breathtaking"(Gramophone Magazine), she has been hailed as"a brilliant and expressive player" (Dallas Morning News), with "a dazzling technique unfailingly governed by impeccable musical judgment" (Detroit News). She has appeared around the globe as a concerto soloist and in recital, bringing her unique brand of musicianship and warm artistry to an ever-increasing audience. Also a published author, speaker, professor of harp, and environmental activist, her many passions are woven into a vibrant and multi-faceted career.
Since making her debut at age 18 with the New York Philharmonic and Zubin Mehta, Kondonassis has brought new audiences to the harp and has appeared as soloist with numerous major orchestras in the United States and abroad such as The Cleveland Orchestra, English Chamber Orchestra, Hong Kong Philharmonic, Detroit Symphony, Dallas Symphony, San Diego Symphony, Houston Symphony, Orquesta Sinfonica de Puerto Rico, Phoenix Symphony, Buffalo Philharmonic, Odessa Philharmonic (Ukraine), New World Symphony, and Florida Orchestra, to name a few. Other appearances include engagements at Carnegie Hall, Avery Fisher Hall, the 92nd Street Y, and Taiwan's National Concert Hall.
Kondonassis' performances have been a feature at renowned festivals throughout the United States including the Santa Fe Chamber Music Festival, Marlboro Music Festival, Minnesota Beethoven Festival, Spoleto Festival, Strings Music Festival, Tanglewood Music Festival, Bravo! Vail, Bay Chamber Concerts, Great Lakes Chamber Music Festival, Mainly Mozart Festival, and more. She has been featured on CNN and PBS as well as Sirius XM Radio's Symphony Hall, NPR's All Things Considered and Tiny Desk Concerts, St. Paul Sunday Morning, and Performance Today.
The first harpist to receive the Darius Milhaud Prize, Kondonassis is committed to the advancement of contemporary music through both the performance and commissioning of new works for the harp. She has premiered works by composers such as Bright Sheng, Donald Erb, Hannah Lash, Keith Fitch, Lauren Keiser, and Gary Schocker, among others. Current projects include a new Harp Concerto by Jennifer Higdon, a consortium commission from the Rochester Philharmonic Orchestra, Harrisburg Symphony Orchestra, Baton Rouge Symphony Orchestra, Fargo-Moorhead Symphony Orchestra, Lansing Symphony Orchestra, and the Oklahoma City Philharmonic Orchestra, with performances scheduled throughout the 2018-2019 season.
Kondonassis has also earned a reputation as a world-class chamber musician, collaborating with artists such as the Shanghai, Jupiter, Rossetti, JACK, Biava, and Vermeer string quartets, pianist Jeremy Denk, guitarist Jason Vieaux, violist Cynthia Phelps, and flutists Marina Piccinini, Joshua Smith, and Eugenia Zukerman. The Kondonassis/Vieaux duo released their debut album, Together, in January 2015 on Azica Records; Gramophone Magazine praised their "almost rapturous sense of cohesion." The duo's next recording will feature several world premieres and is slated for release in 2019.
Universally praised for her extensive discography, Kondonassis' "sheer luminescence at the harp" (American Record Guide), and"perfect technique with a pure, limpid tone that consistently seduces theater"(Classics Today), have placed her at the top of her generation of recording artists. With hundreds of thousands of discs and downloads sold worldwide, Kondonassis' twenty releases on the Telarc, Azica, Oberlin, New World, and Channel Classics labels include her latest album, Ginastera: One Hundred (Oberlin Music, 2016), celebrating Ginastera's 2016 centennial with performances of his music by Kondonassis, guitarist Jason Vieaux, violinist Gil Shaham, and pianist Orli Shaham. Her 2008 album of music by Takemitsu and Debussy, Air (Telarc), was nominated for a Grammy Award. Other lauded releases include American Harp (Azica 2013); Solo Harp: The Best of Yolanda Kondonassis (Azica 2012); Ravel: Intimate Masterpieces, Music of Bright Sheng, including the world premiere recording of Sheng's Concerto for Harp and Orchestra, written for Kondonassis; Salzedo's Harp; Debussy's Harp; TheRomantic Harp; Music of Hovhaness; the first-ever harp recording of Vivaldi's The Four Seasons; Quietude; A New Baroque; Pictures of the Floating World; Sky Music; and Scintillation. Her many albums have earned universal critical praise as she continues to be a pioneering force in the harp world, striving to push the boundaries of what listeners expect of the harp.
As an author, composer, and arranger, Kondonassis has published three books to date: On Playing the Harp, a comprehensive guide to harp technique and methodology that has quickly become a standard in the harp pedagogy literature; The Yolanda Kondonassis Collection, a compilation of her many original transcriptions, arrangements and compositions for the harp; and The Yolanda Kondonassis Christmas Collection,featuring Kondonassis' most popular arrangements from her acclaimed disc, Dream Season: The Christmas Harp. Her newest book, A Composer's Guide to Writing Well for the Harp, will be released in 2019. Carl Fischer Music publishes all of her works. Kondonassis carries her passionate artistic commitment to issues regarding the protection of natural resources, air quality, and climate change. Royalties from several of her projects are donated to earth causes and she is the founder and director of Earth at Heart, a non-profit organization devoted to earth literacy and inspiration through the arts. Her first children's book, entitled Our House is Round: A Kid's Book About Why Protecting Our Earth Matters, was published in 2012 by Skyhorse Publishing and praised as "the perfect children's introduction to environmental issues" by The Environmental Defense Fund. It was recently selected as a featured title by Scholastic Australia.
Born in Norman, Oklahoma, Kondonassis attended high school at Interlochen Arts Academy. She continued her education at The Cleveland Institute of Music, where she received her Bachelor's and Master's degrees as a student of Alice Chalifoux. Kondonassis' long list of national and international honors includes top prizes in the Affiliate Artists National Auditions in New York, the Maria Korchinska International Harp Competition in Great Britain, two Solo Recitalists Grants from the National Endowment for the Arts, and a 2011 Cleveland Arts Prize. In addition to her active performing and recording schedule, she heads the harp departments at Oberlin Conservatory of Music and The Cleveland Institute of Music and has presented masterclasses around the world. Yolanda Kondonassisplays a Lyon & Healy Salzedo Model harp.