Violins of Hope on Display
Long Beach Symphony is proud to present Violins of Hope, a concert commemorating and featuring a unique collection of restored instruments played by Jewish musicians during the Holocaust – many of them in concentration camps. These instruments were saved and have been painstakingly restored. They represent the love and tragedy of many musicians and listeners; the destiny of millions of people; and the power of music to transcend the darkest hours of humanity.
This concert is presented as part of Violins of Hope Los Angeles County, a region-wide dialogue about music, art, social justice and free expression.
For tickets or more information, call the Symphony box office at (562) 436-3203 or BUY ONLINE.
The Hecht Violin
This violin belonged to a German woman, Fanny Hecht, whose family fled to the Netherlands in an attempt to escape the Nazis. There she befriended her neighbor, Helena Visser, and sometimes played music with her. During the German occupation of the Netherlands, Hecht realized that her family would be taken by the Nazis and asked Visser to take care of her violin until she was able to return.
Visser snuck into the Hecht family's apartment — against her husband's wishes — and retrieved the violin, which she then passed down to her children and grandchildren. Years later, the grandchildren learned of the Violins of Hope after watching a documentary on television late one night. Inspired by the project, they traveled to Israel, where they were able to learn the fate of the Hecht family — all of whom perished in concentration camps — and to deliver the violin personally to Amnon Weinstein.
"We've received a lot of violins in different ways," Weinstein says. "Usually, it's from relatives with whom the violin ended up, and they know it belonged to a relative who was killed in the Holocaust. Or it comes from people who have some interest in this musical memorial we are making. But with this Dutch family, this is the first time I've encountered such a story. It's a good violin, German-made, valuable. It's in excellent condition because it was hardly touched over the decades. The Visser family kept it for more than 70 years in order to keep their promise, and they wanted to return it to someone who will honor the memory of its legal owners."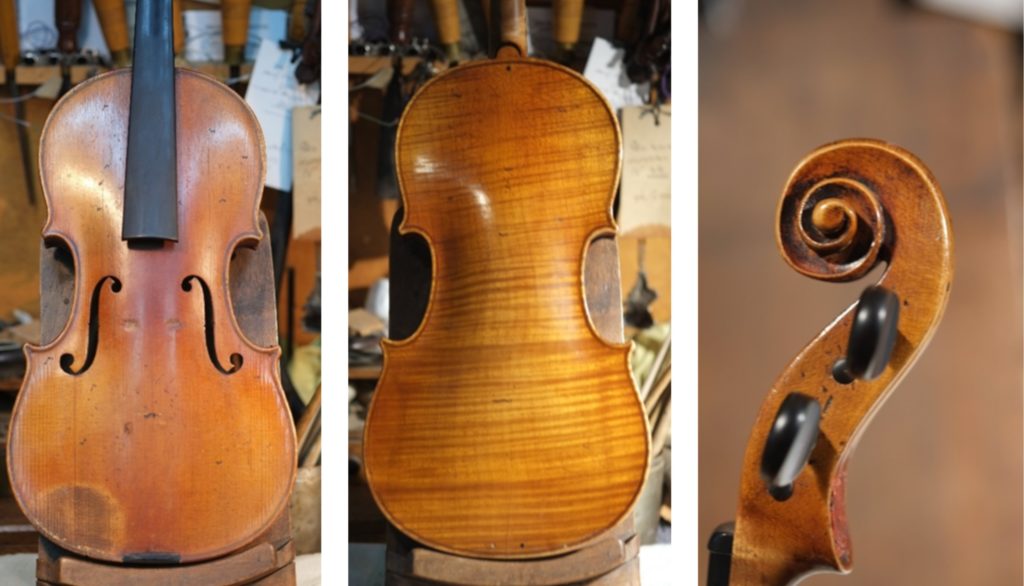 The Buried Violin
Heinrich Herrmann grew up in Schwabach and Nuremberg, in the south of Germany, where he learned to play the violin. He studied law and became a judge, but following the Nuremberg laws, he lost his position because of his Jewish identity. He fled to Amsterdam, where he became a typewriter salesman and met his wife, Ilse. Heinrich clung to his old, inexpensive Gypsy violin and often played chamber music with friends. In the mornings, he tried to secure a visa to Cuba or any other country that would grant him and Ilse a chance to leave Europe. With this plan in mind, he used all his savings to buy a 150-year-old instrument handmade in the famous atelier of the Klotz family in Bavaria, Germany.
Herrmann thought that once he emigrated to Cuba, he could sell the extraordinary violin and support his family. His plan was thwarted when all Jews in Holland were forced to register with the Nazi police and to hand in all of their valuables. He brought his violin and told the clerk that he had no problem giving away all his valuables, but had a difficult time parting with the violin. "Go home with your violin," said the clerk, "and come back tomorrow with another. But don't tell anyone I said so."
The Herrmanns asked a Dutch friend, Yan Molder, to keep the violin. On June 23, 1943, they were imprisoned by German police and sent to Bergen-Belsen. Molder was afraid the Nazis would find out that he had held on to Jewish property, so he gave it for safe-keeping to a musician friend, who also feared the police and buried the violin in his garden.
Miraculously, Heinrich and Ilse Herrmann survived, and in 1944 they were exchanged for German citizens being expelled from British-held Palestine. A year later, after the end of the war, the violin, now badly damaged, was brought to them in Palestine. It was repaired and stayed close to Heinrich, who played it for the next 40 years.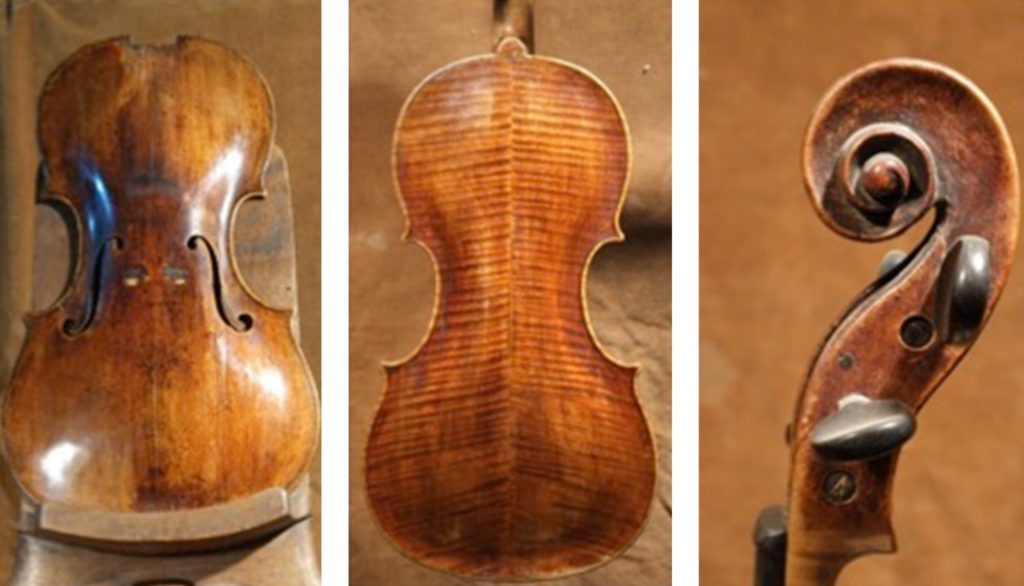 The AIPAC Violin
This violin belonged to Dr. Leon Schatzberg-Sawicki, who was born in 1918 in the town of Kolomyia, then part of Poland and now part of Ukraine. He graduated from the Lviv Conservatory in 1938 and studied medicine at Lviv University, graduating in May 1941. He married a fellow student, Ella Schrenzel. During the Nazi occupation, he changed his name to the Polish, Sawicki, with the help of false identity papers. He played this violin all over Poland on street corners, in restaurants and in impromptu bands, while Ella tutored Polish children. They were liberated by the Soviets in July 1944. Both lived long lives and saw their family grow with children and grandchildren. (JHV 61)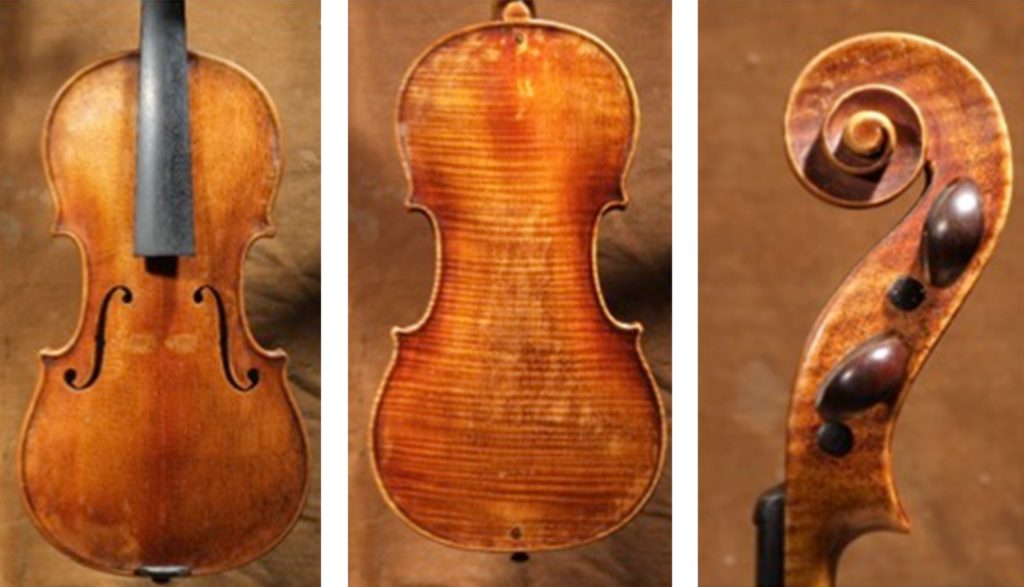 The Dachau Violin
This violin belonged to Abram Merczynski. In August 1944, he and his two brothers, Isak and Zysman, were deported from the ghetto in Łódź, Poland, to Auschwitz and then to Dachau. Abram was 21 years old and played his violin wherever he was, even in Kaufering, a sub-camp of Dachau. He and his brothers survived, as did his violin. Before they emigrated to the United States in 1955, the three brothers rented a room with the Sesar family in Munich.
Merczynski soon bought himself a new violin and gave his old instrument, which had accompanied him through all his troubles, to the young Julius Sesar, then 14 years old. He lived to be 88, and his daughter Eleanor said he never stopped playing the violin. Julius Sesar, now an old man himself, gave Merczynski's old violin to a friend, Eberhard Thiessen, a violin maker who in turn donated it to the Violins of Hope project, so that the violin will continue to play and tell its story of survival, music and friendship. (JHV 56)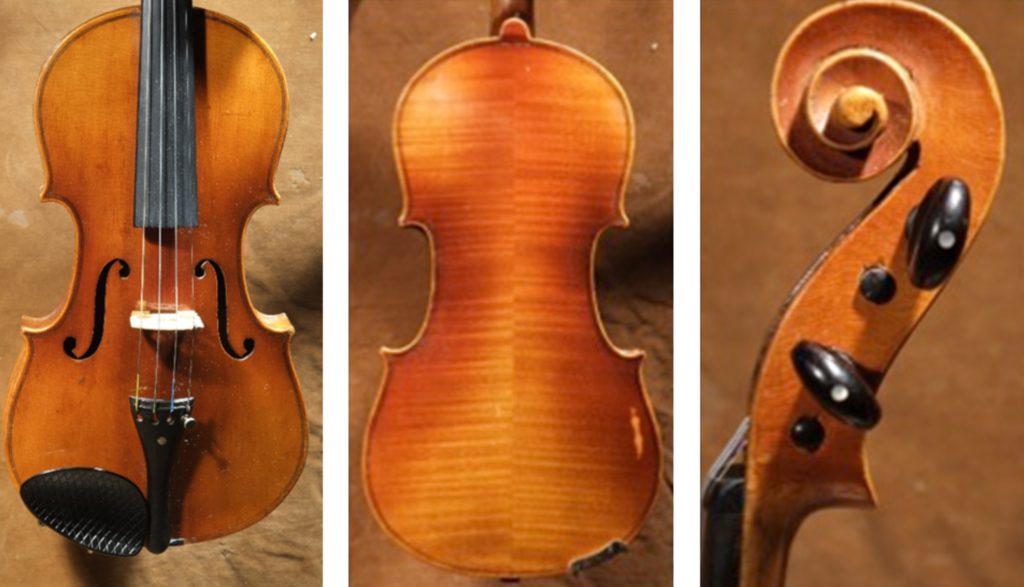 The Berlin Violin / The Gypsy Violin
On January 27, 2015, International Holocaust Day, the Berlin Philharmonic held a concert celebrating the Violins of Hope. Sponsored by Frank-Walter Steinmeier, then the Foreign Minister of Germany and today the country's president, the occasion marked 70 years since the liberation of Auschwitz by the Soviets. On that day, the Violins of Hope received an instrument with a unique history: Donated by Sabine Conrad, a young German woman, the violin had been given to her many years before by Erich Winkel, an 80-year-old Communist.
Conrad had been Winkel's caretaker, and he gave her his beloved violin as a token of gratitude and appreciation. He bought the violin from a Gypsy when he played in the Communist youth orchestra. The ensemble used to play in the early '30s in north Berlin and was often attacked by the Nazis, even before they came to power. Winkel was very proud of his instrument, which he said survived many ferocious attacks by Nazi hoodlums. (JHV 55)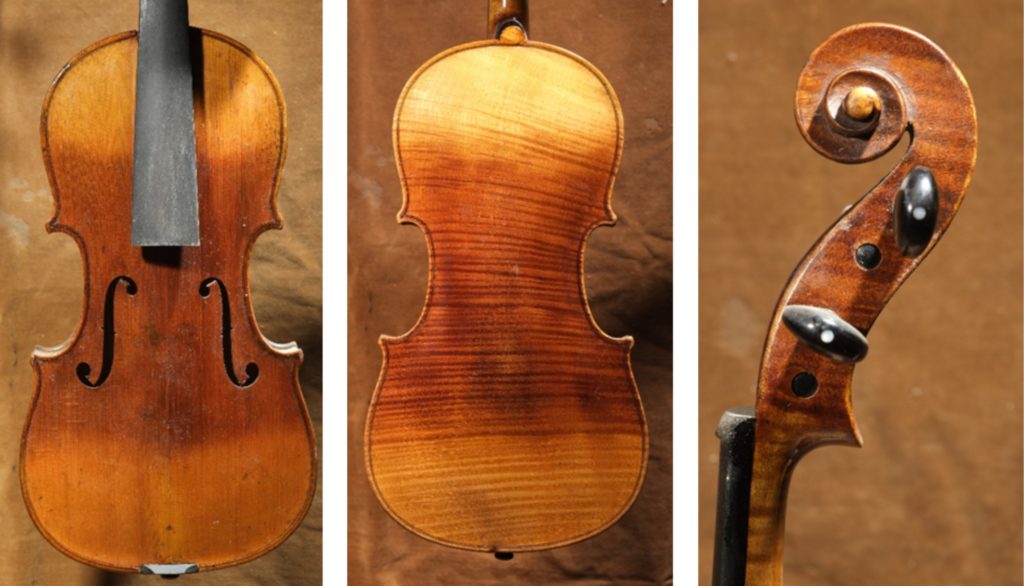 The Friedman Violin
This is a typical story of a Jewish family in Romania. Two sisters, ages 9 and 11, shared the same violin. Both took music lessons while their mother watched over them and made sure they practiced every day. During the war, as they were transported from one place to another, they lost touch with their parents, who kept the violin as a constant reminder of their talented daughters.
When the war ended, the girls were taken by Aliyat HaNoar, the Jewish children's immigration organization, and sent by boat to Palestine. British police, then in control of the territory, sent the boat and all immigrants aboard to a camp in Cyprus. The sisters were reunited with their parents and their violin when they arrived in Israel with thousands of other Holocaust survivors who were interned in Cyprus until the establishment of the state of Israel in 1948. (JHV 54)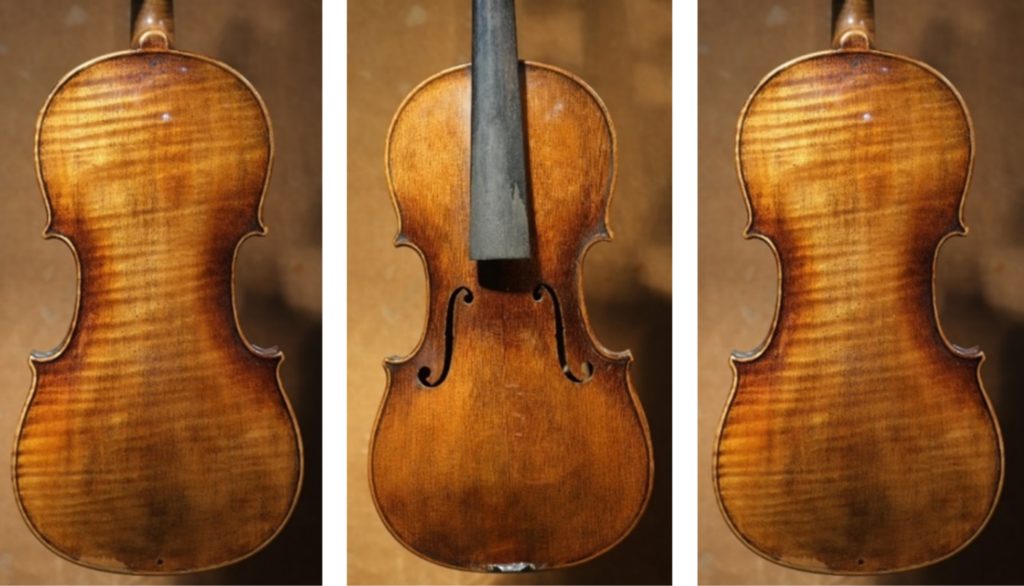 The Morpurgo Violin
Several years ago, a woman in her 90s, Signora Morpurgo, came with her three daughters to the Weinsteins' workshop in Tel Aviv. They brought with them the treasured violin of her husband, Gualtiero Morpurgo.
The Morpurgos are a respected Jewish family whose roots go back some 500 years in the north of Italy. When he was a young child, Gualtiero's mother handed him a violin and said: "You may not become a famous violinist, but the music will help you in desperate moments of life and will widen your horizons. Do not give up. Sooner or later, it will prove me right."
That moment arrived without warning. At the Central Station in Milan, Gualtiero's mother was forced to board the first train to Auschwitz. He was sent to a forced labor camp and, loyal to his mother, took the violin along, often finding hope and strength while playing Bach's Partitas with frozen fingers after a long day's work in harsh conditions.
A trained engineer who worked in the shipyards of Genoa, Morpurgo volunteered after the war to use his engineering skills to build and set up ships for Aliya Bet, the movement of Jewish survivors sailing illegally to Palestine. For this he was awarded the Medal of Jerusalem by Yitzhak Rabin in 1992.
Throughout his life, he never stopped playing. He was 97 when he could play no more and put his lifelong companion in its case. After his death in 2012, his widow and their three daughters attended a Violins of Hope concert in Rome and decided to donate his instrument to the project. (JHV 50)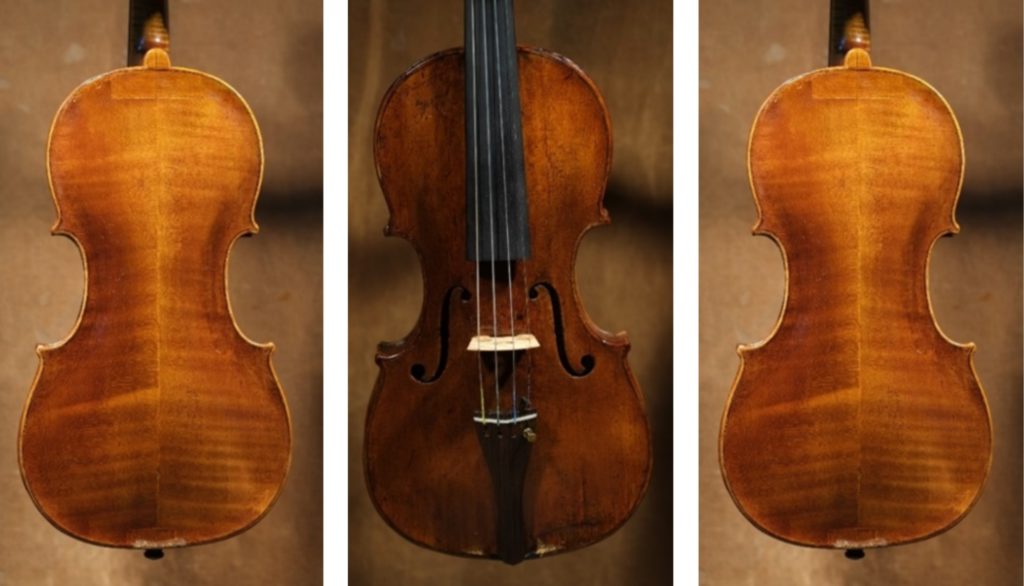 The Weichold Violin
Along with several others in the Violins of Hope collection, this fine, high-quality instrument belonged to a member of the Palestine Orchestra, created in 1936 by Bronisław Huberman. His vision to create an all-Jewish orchestra saved the lives of many musicians and their families, as he was able to help them escape Europe during the rise of Nazism.
Together, these instruments tell the story of the musicians who, after 1948, would become the Israel Philharmonic Orchestra (IPO). Most members of the IPO were first-rate musicians who lost their positions in European orchestras when the Nazis came to power in 1933 and racial laws were enforced in Germany. Following the war, there was a general boycott of German goods in Israel, so much so that even the word "Germany" was banned on the radio. In this atmosphere, Israeli musicians refused to play on German-made instruments, and many came to Moshe Weinstein and asked him to buy their violins.
"If you don't buy my violin, I'll break it," some musicians said. Others threatened to burn their instruments. Weinstein bought each and every one, as for him a violin was above war and evil. Yet he knew he would never be able to sell them. (JHV 49)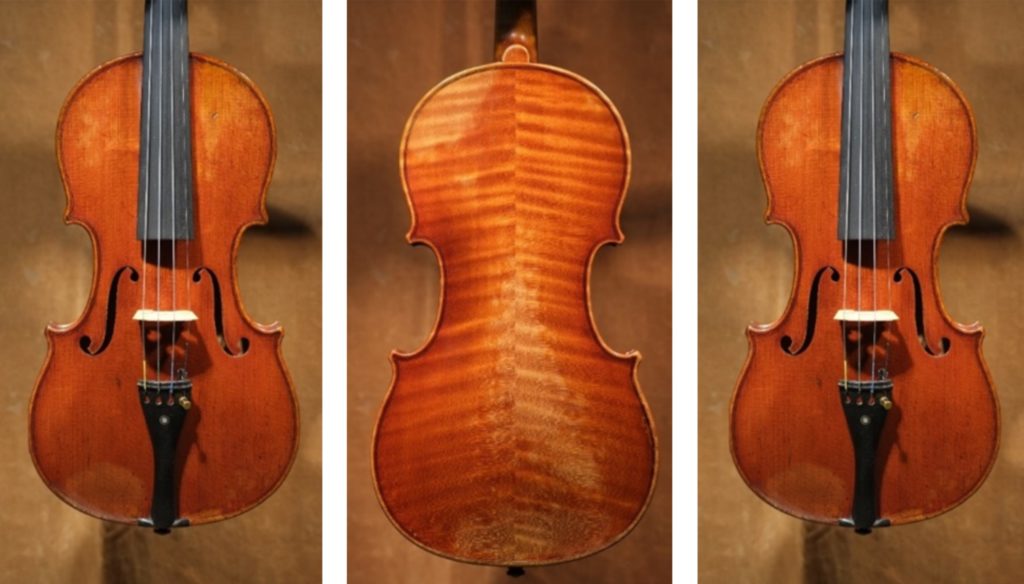 The Sandor Fisher Violin
This violin tells the story of two Holocaust survivors. Born in Hungary in 1925, Valeria Teichner started violin lessons at age 6. In 1944, she was deported to Auschwitz. On the cattle train to the camp, she forgot her violin. Upon getting off the train, she went through a "selection," where she lost her mother and was sent to the music barrack. In tears and unable to play, she was sent to the laundry barrack, only to go through another "selection." From there, she was sent to Gorelitz, another hard-labor camp, where she worked in a munitions factory. The sadistic capo (a prisoner forced to supervise work details) used to play his violin every evening. He played well, she said.
On Christmas Eve, all prisoner-musicians were to play and sing for the commanders. Teichner was among those and sang "Lorelei," accompanying herself on the violin. The next day, the officers' cook threw a piece of cake for her over the fence — a terrible crime. The capo sentenced her to be hanged in Gross-Rosen, the main camp. When the car came for her, the capo called out: Geigerin heraus! ("Violinist – out!"). He then changed his mind, hit her in the face, and let her stay. She was liberated by the Soviets on May 8, 1945.
Teichner soon met Sandor Fisher — the owner of this violin — and married him. He was born in 1919 in Romania, where he started violin lessons at age 6 and studied singing and acting for 12 years. At 18, he changed his name to Farago Sandor to avoid persecution as a Jew, and he became a part of the local opera company. When the situation for Jews worsened and his father was conscripted to hard labor, Fisher and his violin went along to the work camp. Soon he was ordered to play for the officers during dinner and so was able to smuggle leftovers for his friends.
In 1944, Fisher managed to escape the labor camp and join the Soviets. After the war, he married Valeria Teichner, and the couple stayed in Hungary for some years until emigrating to Israel. They raised a family of three daughters, along with grandchildren and great-grandchildren. All along, his daughters said, he never parted with his violin, and he played it to the end of his days. (JHV 48)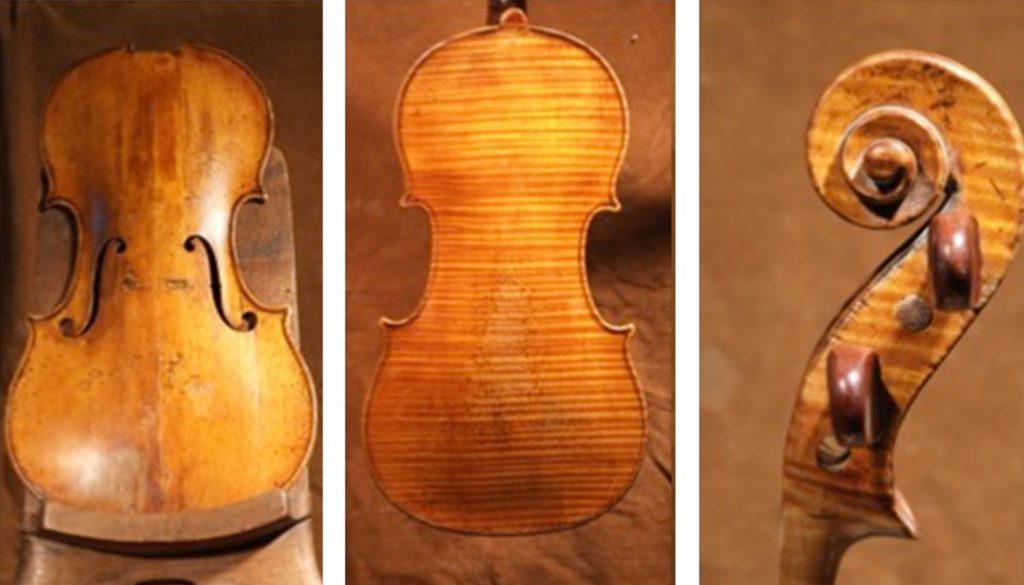 The Wedding Violin
This violin arrived from Switzerland with a written description of its history glued inside the instrument: "The second violin, wedding violin, made by Leopold Reininger-Delz, an Austrian, during the time he spent as a refugee in Switzerland during World War II in 1944." (JHV 47)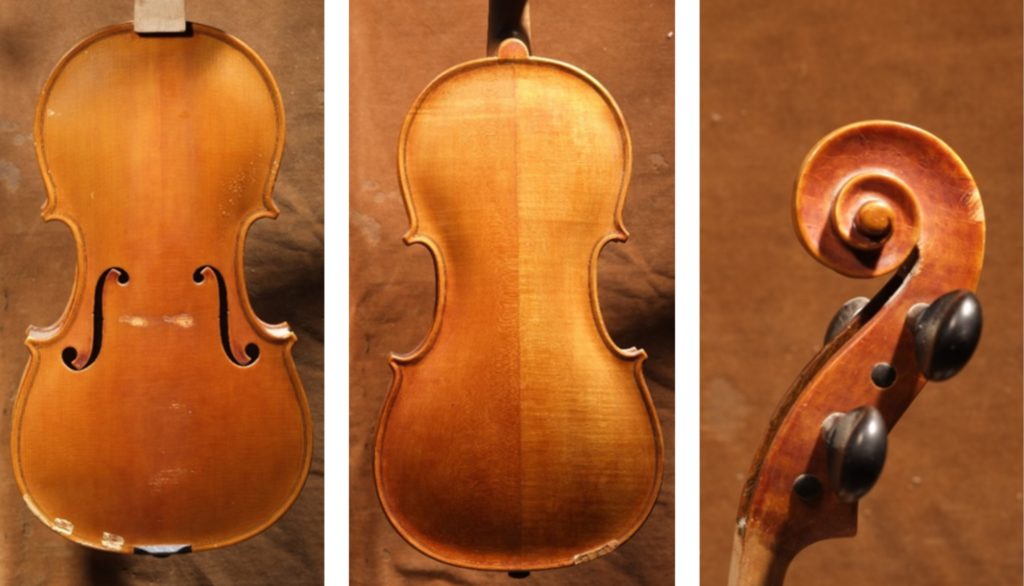 The Barns Violin
This violin is a gift donated to the Violins of Hope by Ana, Eli and Ben Ehrenpreis. The restoration work is dedicated to the memory those who perished in the outrageous pogroms of Eastern Europe, in which numerous Jews were massacred by organized mobs. (JHV 46)
The Jacob Hakkert Violin
This is the first handmade violin by a famous Dutch-Jewish luthier, Jacob Hakkert, who studied in Mirecourt, in the north of France. He joined the family business in Rotterdam, Holland, around 1910, making violins, violas and cellos. He also had a reputation for developing and selling good-quality strings that were popular among many musicians. Sadly, Hakkert was deported to Auschwitz, where he died on May 22, 1944. (JHV 40)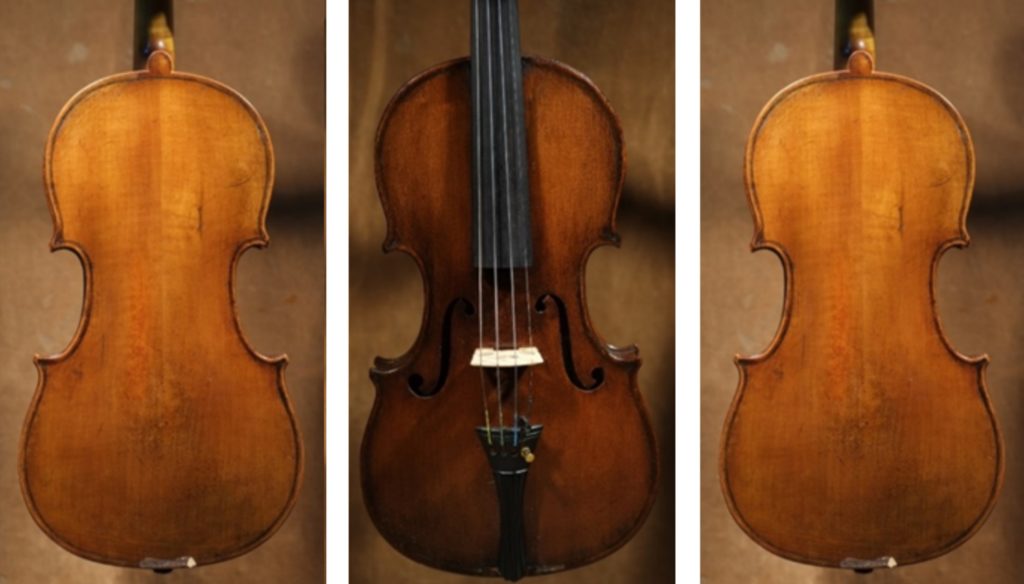 The Heinrich Haftel Violin
This violin belonged to Heinrich "Zvi" Haftel, the first concertmaster of the Palestine Orchestra. It is a French instrument by a famous maker, August Darte.
Haftel was one of about 100 musicians gathered by Bronisław Huberman from all over Europe in 1936 and brought to Palestine. He was a distinguished violinist before the war and joined Huberman after he lost his job in a German orchestra. Huberman's vision to create an all-Jewish orchestra in Palestine saved the lives of many musicians and their families.
Haftel's violin is one of the finest in the Violins of Hope collection. (JHV 39)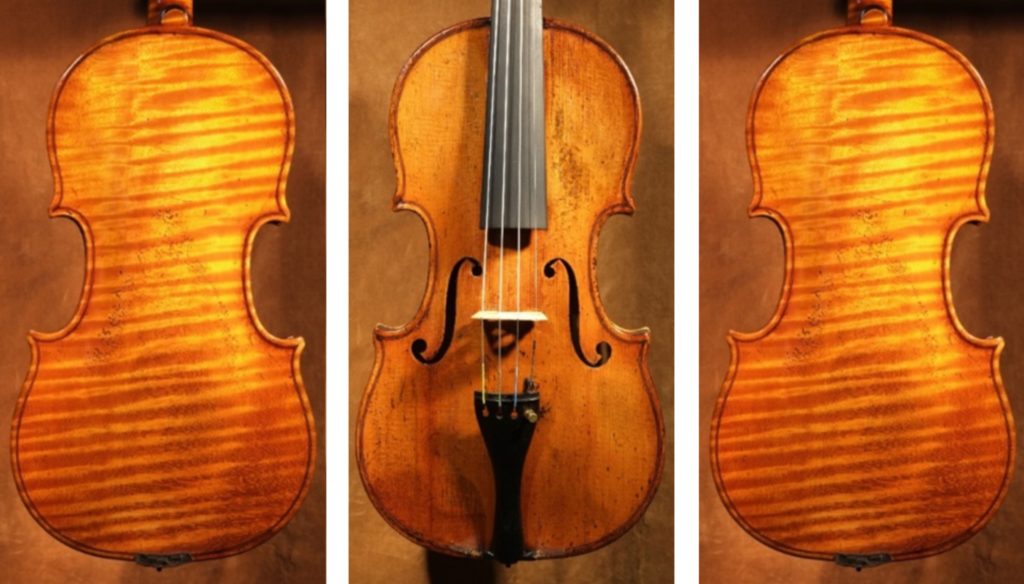 Violin with a Star of David
This is a lovely violin originally made for a klezmer musician. The restoration work is dedicated to siblings Wolf and Bunia Rabinowitz, both gifted young violinists. They played multiple concerts in the ghetto of Vilna during World War II, and they were killed with the last residents of the ghetto, most likely in the forest of Ponar, about 10 km outside the city. (JHV 35)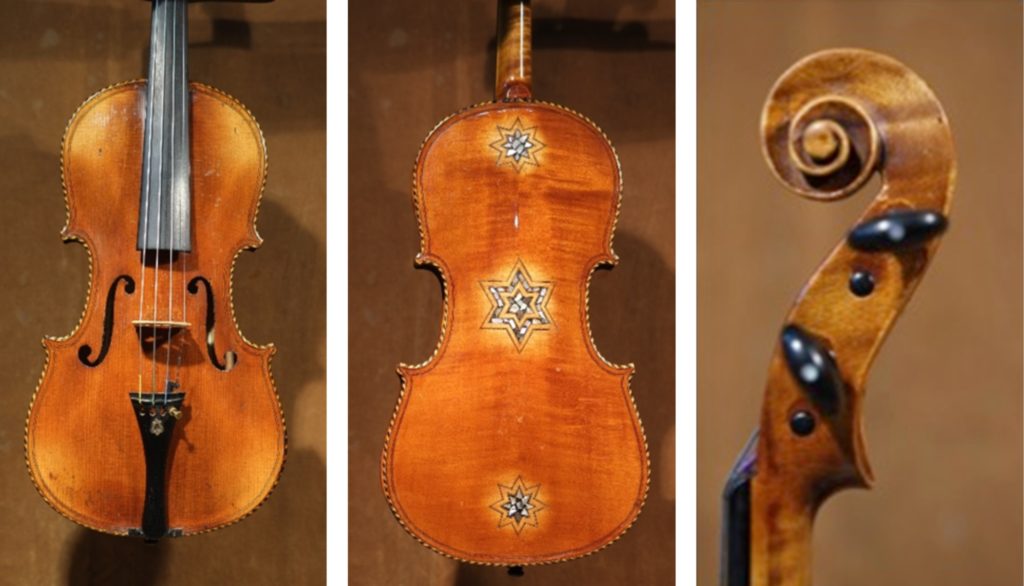 The Heil Hitler Violin
This instrument is presumed to have been owned by a Jewish musician or an amateur who, at some point, needed a minor repair job. The craftsman doing the repairs opened the violin for no apparent reason and inscribed on its upper deck the words "Heil Hitler, 1936," alongside a swastika. He then closed the violin case and handed it back to the owner, who played it for years, unaware of the inscription.
A few years ago, the violin was bought by a violin maker in Washington, D.C., who was astonished to discover its insides. The maker's first instinct was to burn the instrument, but on second thought he contacted the Weinsteins in Tel Aviv and donated it to the Violins of Hope project.
Today, it is part of the collection, but it will never be repaired or played. It is important to note that the majority of German violin makers were not Nazis. Many were known to support Jewish musicians, whom they considered devoted clients and friends. (JHV 34)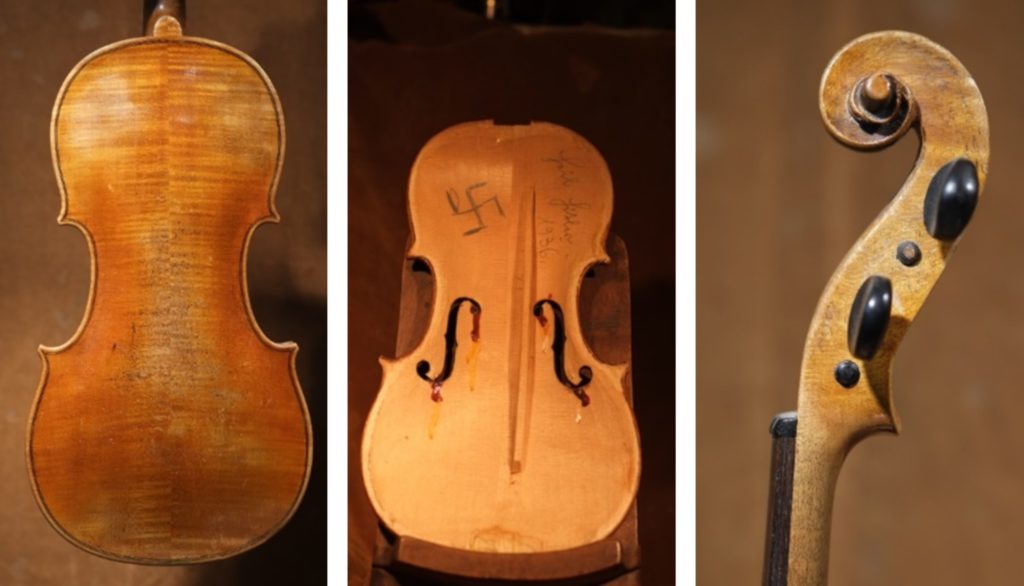 Violin from Lyon, France
In July 1942, thousands of Jews were arrested in Paris and sent by cattle trains to concentration camps to the east — most of them to Auschwitz. On one of the packed trains was a man holding a violin. When the train stopped somewhere in the middle of France, the man heard voices outside the train car. A few men were working on the railways.
The man in the train cried out, "In the place where I'm going now, I don't need a violin. Here, take my violin so it may live!"
The man threw his violin out the narrow window. It landed on the rails and was picked up by one of the French workers. For many years, the violin had no life. No one had any use for it. Years later, the worker passed away, and his children found the abandoned violin in his attic. They sought to sell it to a local maker in the south of France and told him the story they'd heard from their father. The French violin maker, in turn, gave the instrument to the Violins of Hope project so that the violin could live. (JHV 33)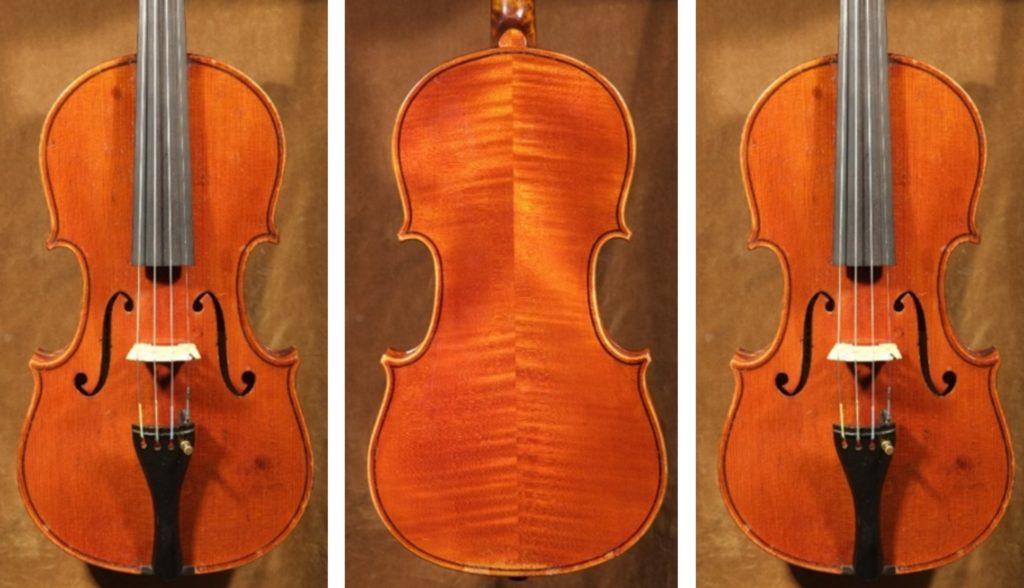 The Erich Weininger violin
Erich Weininger was a butcher and an amateur violinist in Vienna. When the Nazis marched into Austria in 1938, he was arrested and sent to Dachau, where he managed to bring along his violin. Later, he was sent to Buchenwald, and though he was not allowed to play there, he still kept his violin.
Miraculously, Weininger was released from Buchenwald with the help of the Quakers. He then returned to Vienna, only to be one of the very last Jews to escape Nazi Europe. He boarded an illegal boat to Palestine, but was soon arrested by British police, who weren't allowing Jews into the territory. With violin in hand, he was deported to the island of Mauritius off the coast of East Africa, where he stayed until the end of World War II.
While in Mauritius, Weininger did not go idle. He started a band with other deportees, playing classical, local and jazz music. He reached Palestine in 1945. His violin was given to the Violins of Hope project by his son, Ze'ev. (JHV 32)
This violin is featured in Chapter 2 of James A. Grymes' Violins of Hope.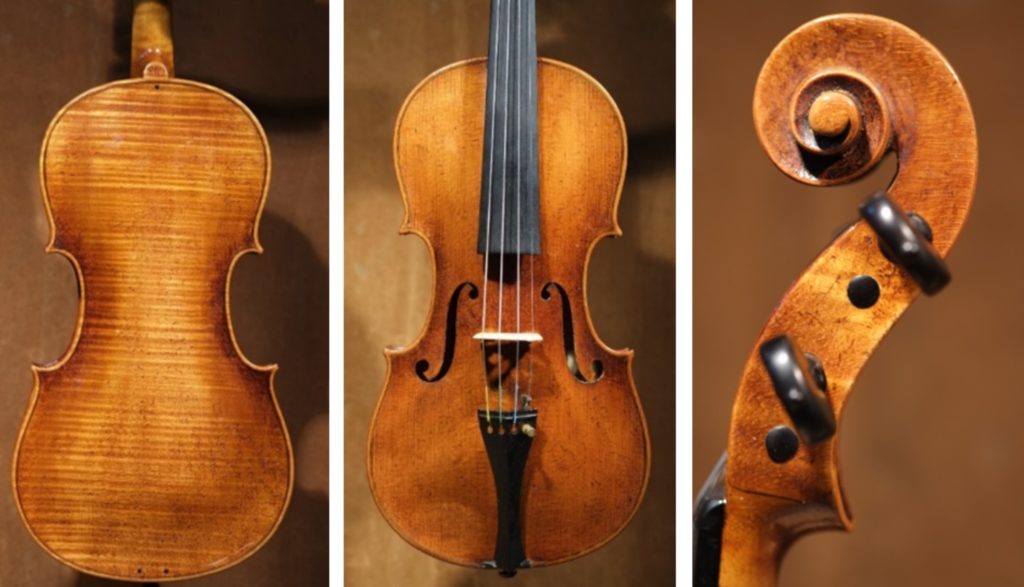 A Violin Dedicated to American Soldiers
The reconstruction work on this violin is dedicated to the memory of the soldiers who fought alongside the Allies against the Nazis — all those who died so that others may live free. Available information indicates that it was repaired in 1899 by J. Panzram in Elmdale, Kansas. (JHV 29)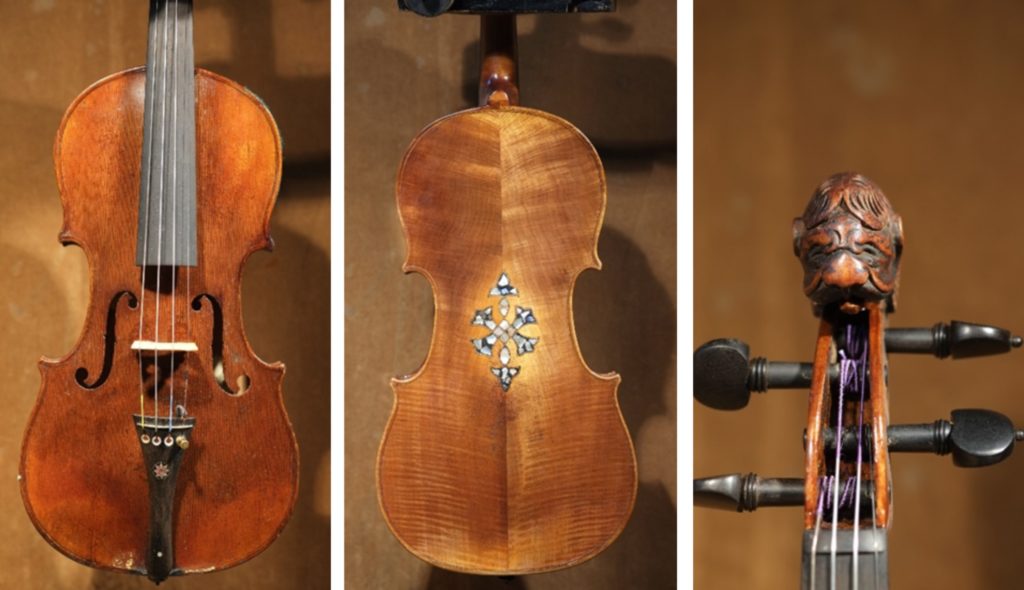 Viola by Carl Zach
This is the only viola in the Violins of Hope. It belonged to a member of the Palestine Orchestra. (JHV 25)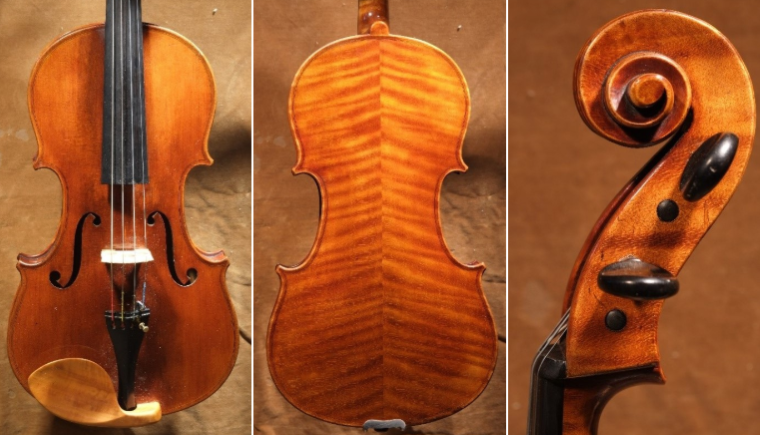 The Wagner Violin
This fine, high-quality instrument belonged to a member of the Palestine Orchestra, created in 1936 by Bronisław Huberman. Along with other violins in this collection, it played a key role in the formation of this historic ensemble, which in 1948 became the Israel Philharmonic Orchestra. Most members of the Palestine Orchestra were first-rate musicians who lost their orchestra positions when the Nazis came to power in 1933 and began enforcing racial laws in Germany.
When the war ended, there was a boycott of German goods in Israel — so much so that the word "Germany" was banned from the radio. In this atmosphere, musicians refused to play on German-made instruments. Many approached instrument maker Moshe Weinstein and asked him to buy their violins. Many threatened to break or burn their instruments.
Weinstein bought each and every instrument, as for him any violin was above war and evil. Yet he knew he would never be able to sell them, and thus these instruments have become part of the Violins of Hope. (JHV 24)
This story is told in greater detail in Chapter 1 of James A. Grymes' Violins of Hope.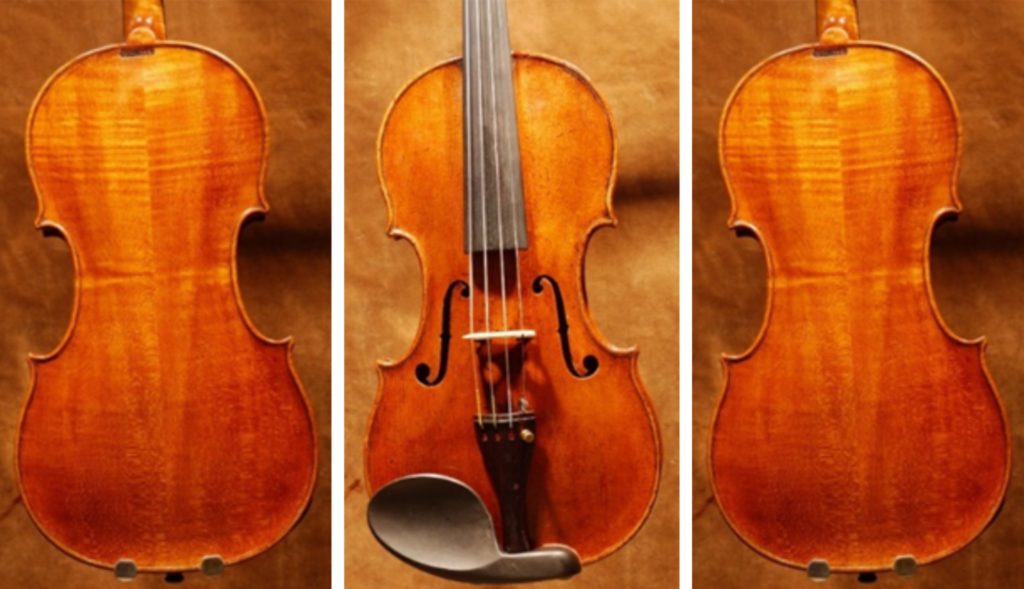 German Violin with Star of David
This is the most beautiful klezmer violin in the Violins of Hope collection, a first-class handmade instrument that dates to the late 19th century. It was likely owned by a wealthy klezmer musician, as it appears to have been more expensive than most klezmer instruments. The Star of David is made of mother of pearl. (JHV 21)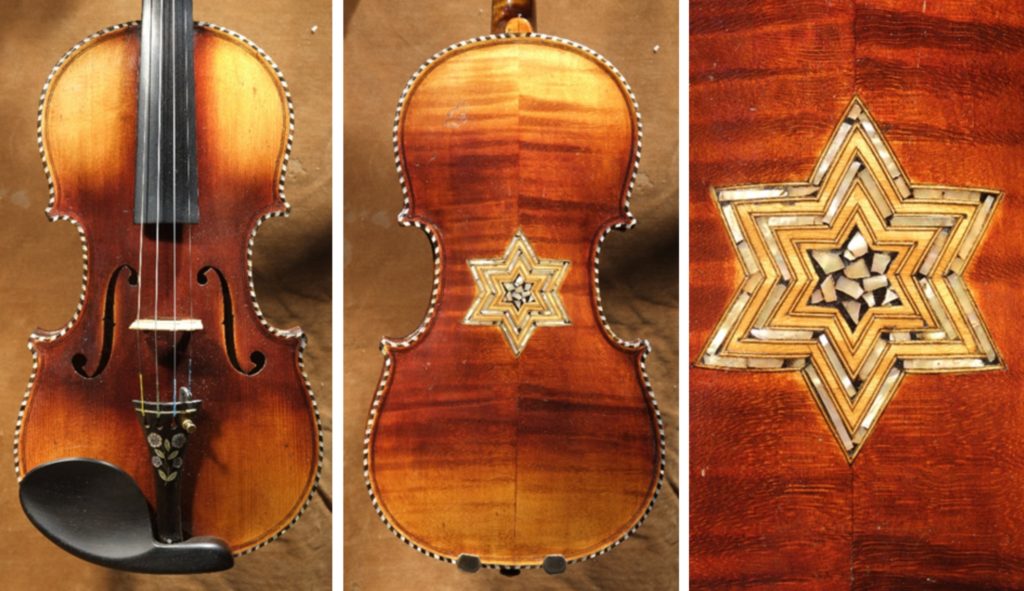 German Violin Played by Shlomo Mintz
This is a violin that clearly survived the Jewish fate – either a ghetto, a hard labor camp or worse. The identity of the owner is unknown. The instrument is featured in the documentary film Le Voyage d'Amnon (Amnon's Journey), played by the great Israeli violinist Shlomo Mintz. When Mintz performs Ernest Bloch's "Ba'al Shem" at the gate to Auschwitz, it is as if the violin has come full circle, returning to the very place where it – or other instruments like it – had once been played. (JHV 18)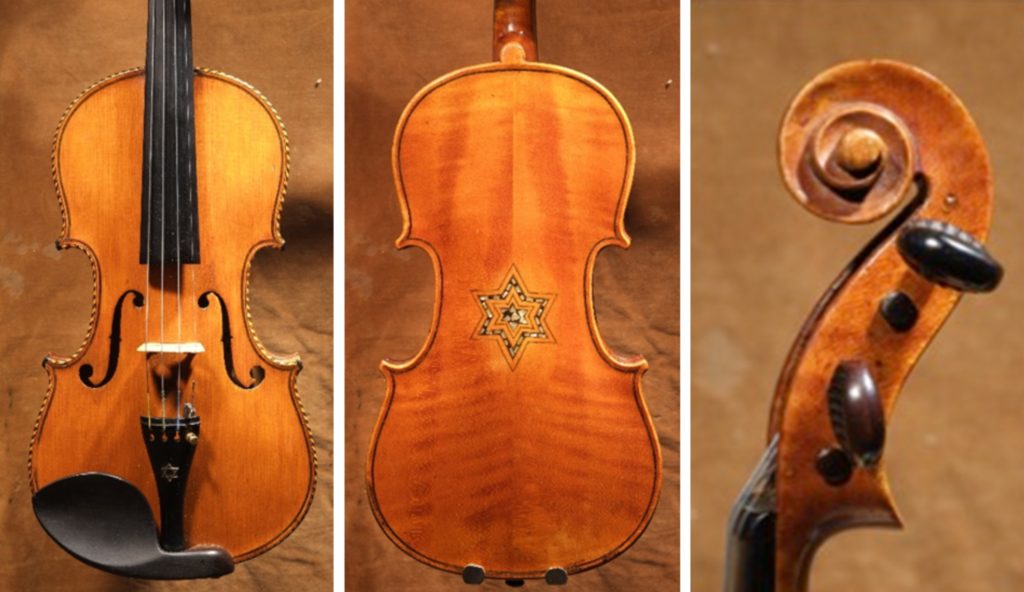 The Bielski Violin
This is a violin played by a klezmer musician. Music was one of the few art forms encouraged by Jewish tradition, and it was quite common for young children to play the violin.
Yiddish author I.L. Peretz wrote in one of his short stories that one could tell how many boys were in a Jewish family by counting the number of violins hanging on the wall. This is probably the reason why so many klezmer instruments were decorated with the Star of David. Most klezmer violins were inexpensive, made in Czechoslovakia or Germany, in shops that specialized in ornamented violins.
Most klezmer players were self-taught musicians with natural talent, but this tradition was almost lost during World War II. Thanks to a new generation of musicians, there has been a klezmer revival in Europe, Israel and the U.S.
The restoration work on this violin is dedicated to the Bielski partisans who fought and saved 1,230 Jews during the war. Assaela Weinstein, Amnon's wife, is the daughter of Assael Bielski, one of the three brothers who formed the Bielski brigade in Belarus. (JHV 16)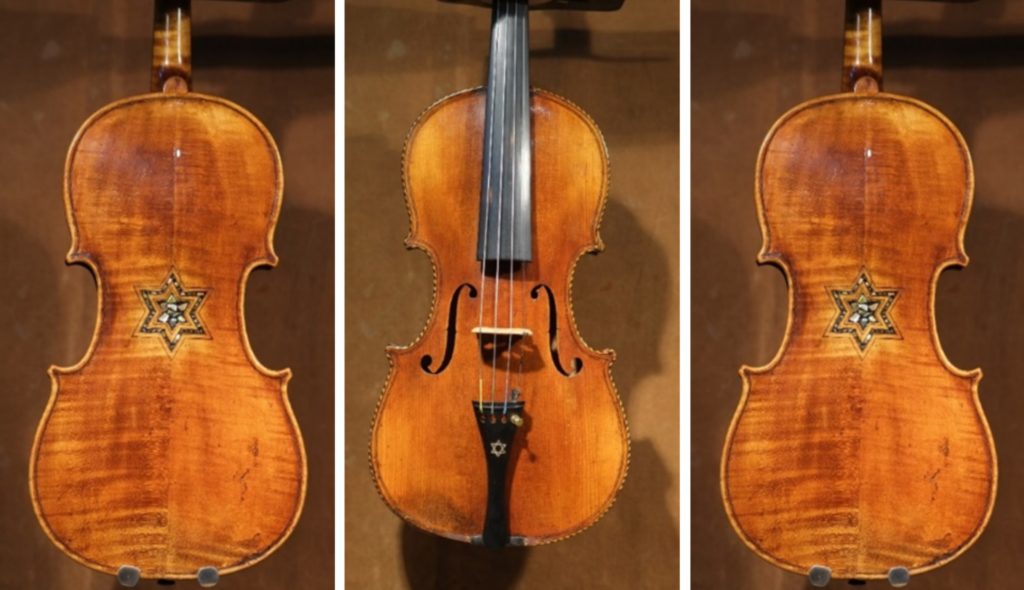 The Moshe Amiran Violin
This violin wasn't made by hand, but rather by machine. Although it looks like a regular instrument, it doesn't produce any sound. This type of violin usually belonged to beggars who made believe they played, but actually sang the music.
Moshe Amiran, then a grandfather living in Israel, recalled the story of this violin and how it came to be in his possession:
"From 1972-75, I lived in Santiago, Chile, where I met a man who survived the war and found shelter in Chile. He was about 60 years old, spoke a broken Spanish typical to immigrants from Eastern Europe, and seemed rather lonely and poor. One day, he asked me to buy his old violin. I visited his home, where he showed me the number tattooed on his arm [indicating that he'd been in a concentration camp]. The man told me that the violin had belonged to his grandfather, who gave it to him and swore him to keep it, no matter what. In all his travels and troubles, he never parted with the instrument.
"In 1942, the man was sent to a labor camp and then to Auschwitz-Birkenau, which he somehow survived with his violin. I paid him for his violin, feeling that I was doing a mitzvah [good deed]. As time went by, I put the violin away and forgot all about it. Three years later, I returned to Israel and discovered the violin inside one of my many crates. For a moment, I felt that the violin was following me so that one day it could tell its sad history.
"Many years later, when my grandchildren grew up, I remembered the violin lying in the attic and decided to bring it to Amnon Weinstein in Tel Aviv. The rest is history, you may say. This violin does not play, but allows me to be poetic and sentimental and say that its silence is powerful, its silent strings touch hearts, and it is an authentic tombstone to many unknown and nameless violinists who died lonely and forgotten." (JHV 13)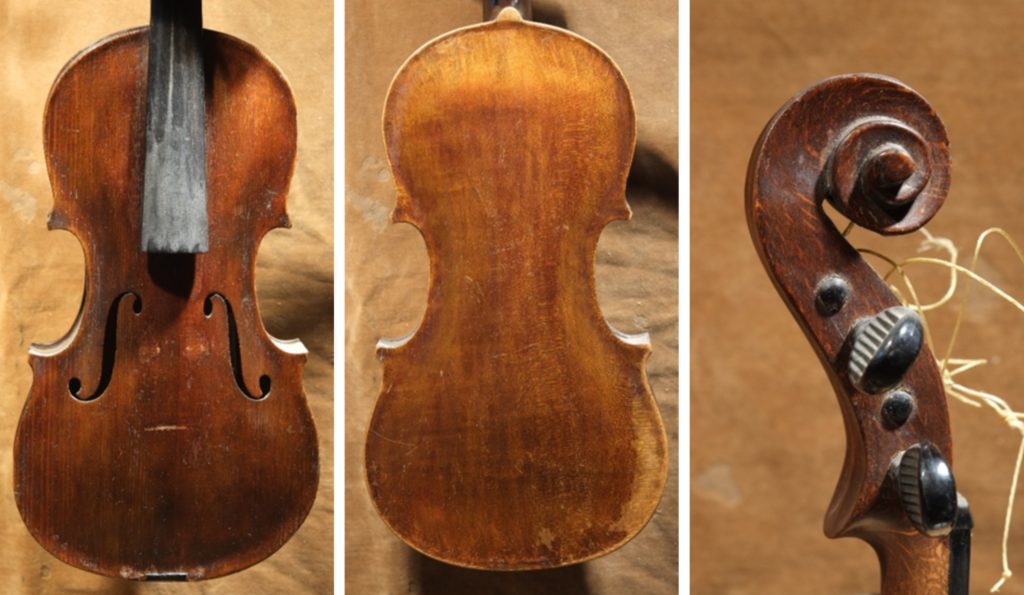 German Violin with Star of David
This violin came to the Weinsteins' workshop in very bad condition. The signs on it indicate that it was played in the worst conditions imaginable. The top has no varnish, and the inside parts are glued and nailed in an unprofessional way. It appears to have been played in a camp or ghetto and was repaired in any way possible, perhaps to give the owner a little more time to play it.
The Weinsteins decided to leave this violin as is, so that people can see the condition of some instruments when they arrive at the workshop — and perhaps, in seeing it, imagine what some of the instruments and their owners had to go through. (JHV 9)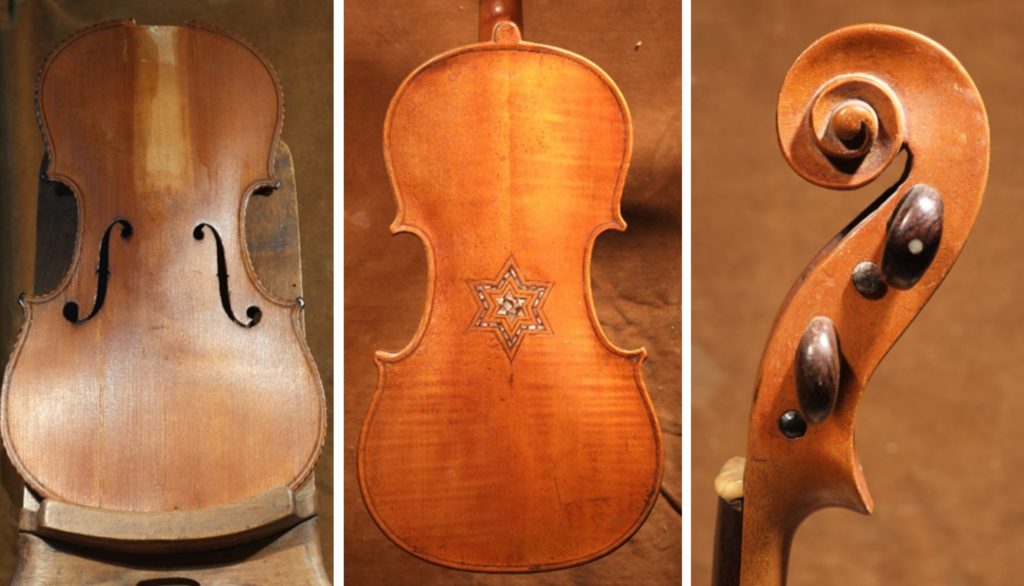 The Feivel Wininger Violin
Before the Holocaust, Feivel Wininger lived in Romania with his elderly parents, wife and baby daughter Helen. In October 1941, he and thousands of other Jews were deported by train to the swampland of Transnistria and further into Ukraine. The exodus was harsh, with much suffering and horror, but he never gave up.
After settling in the Ukrainian ghetto of Shargorod, Wininger found a way to survive. A famous judge who also happened to be an amateur violinist recognized him as the gifted child-violinist that he had been years ago. The judge gave him his violin, which was made by one of the members of the famous Amati family in Cremona, Italy. Wininger, who labored chopping wood for local Ukrainians, tried the violin, and his life changed. Now there was music — and hope.
A local Ukrainian peasant gave him opportunities to perform at weddings and holidays in exchange for food. Wininger lost his precious violin a short while later, but he found another, which gave him a way to continue performing Ukrainian and Romanian music. As a result, he was able to provide food for 17 family members and friends.
Many years later, in Israel, Wininger's daughter Helen brought her father's violin to be repaired in the Weinsteins' workshop in Tel Aviv, so that her now aged father could play again. Upon hearing his incredible story, the Weinsteins repaired the violin, which has since become a part of Violins of Hope and serves as a memorial to a man of courage, industry, vision and kindness. (JHV 7)
This violin is featured in Chapter 5 of James A. Grymes' Violins of Hope.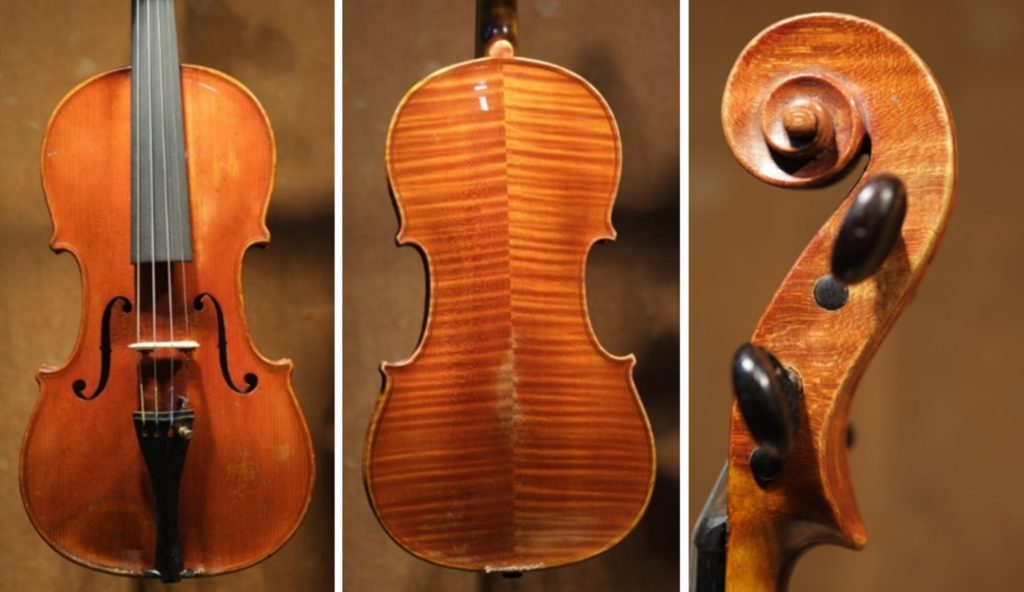 The Moshe Weinstein Violin
This violin was a lifetime friend of Moshe Weinstein, the father of Violins of Hope luthier Amnon Weinstein. Born in a shtetl in Eastern Europe, Moshe fell in love with the sound of the violin as a young boy. When a klezmer troupe arrived in the shtetl to play at a rich man's wedding, he was hypnotized by the sound of music, while all the other children gathered under the table to hide and steal sweets. After a few festive days, the troupe left — and so did Moshe, who followed the klezmer musicians out of town.
Young Moshe was finally located and dragged back home, where he was first punished — and then given a very simple violin. This was a turning point in the Weinstein family history. He learned to play by himself and later studied at the music academy in Vilna (in present-day Lithuania), where he met Golda, a pianist. The two were married and in 1938 immigrated to Palestine.
Before leaving Europe, Weinstein traveled to Warsaw to study instrument building and repair with Yaakov Zimmerman. Since many Jews play the violin, he thought, they would need a violin maker in the new land. After arriving in Palestine, he first worked in an orchard picking oranges and a year later opened a violin shop in Tel Aviv.
Loyal to the tradition of helping out gifted young musicians making their first steps in music, he supported many talented Israeli children, among them Shlomo Mintz, Pinchas Zukerman and Itzhak Perlman. (JHV 6)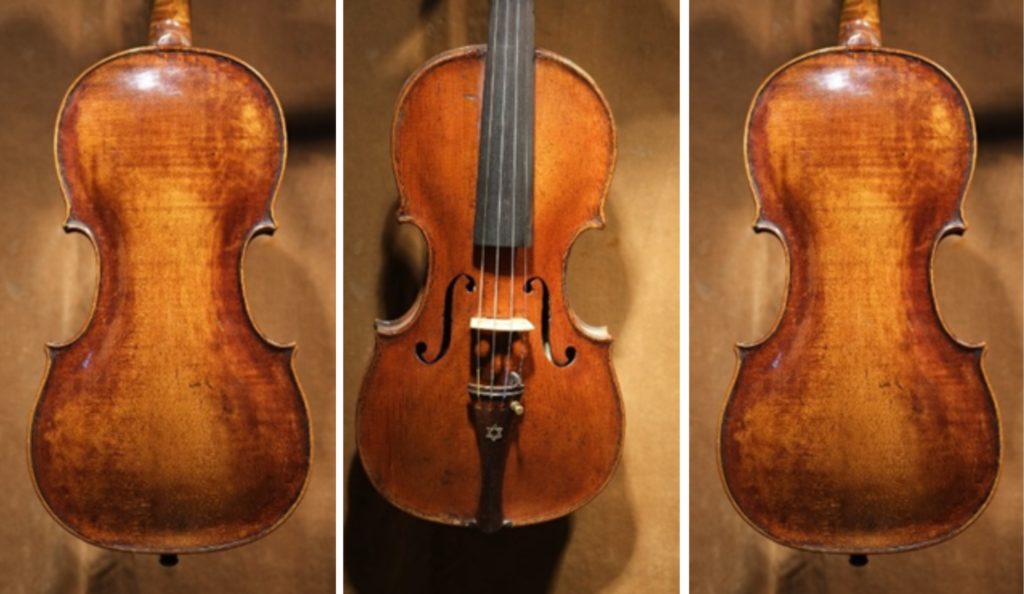 Violin by Yaakov Zimmerman
This handmade violin is outstanding because it is unusually decorated with five Stars of David, four on the face and one on the back. Usually made to order, these decorations were crafted from glue mixed with black powder.
This violin was found in very bad condition. The varnish was almost nonexistent, and it gave the impression of having been played most of the time in open air, rain or shine. It was repaired meticulously for a year-and-a-half and now serves as a concert instrument. (JHV 4)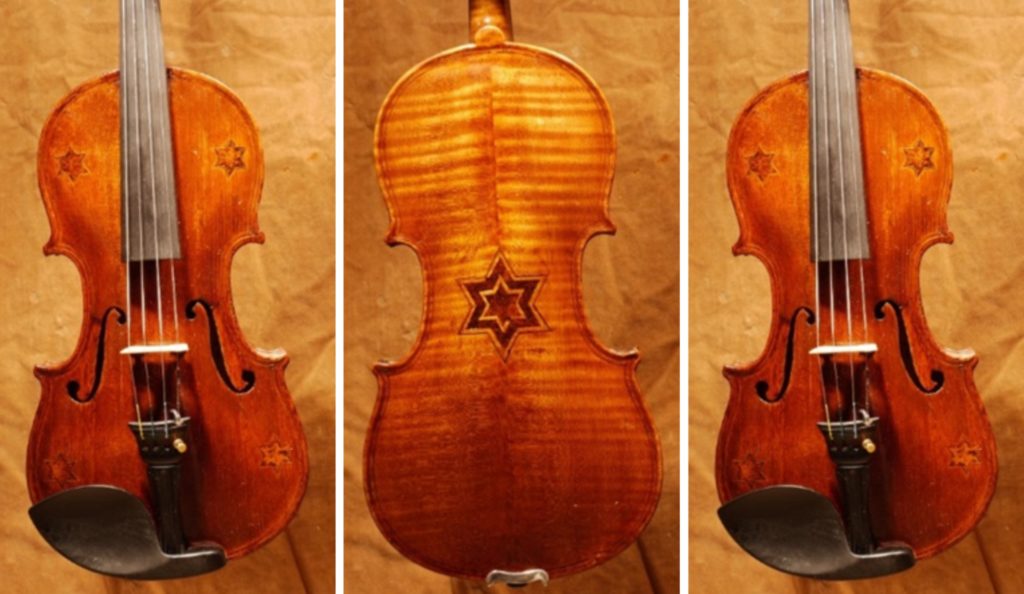 The Shimon Krongold Violin
Shimon Krongold, a wealthy Jewish industrialist in Warsaw, bought this violin from Yaakov Zimmerman, who was possibly one of the first Jewish violin makers. The instrument is labeled, in Hebrew: "I made this violin for my loyal friend Shimon Krongold. Yaakov Zimmerman Warsaw 1924." It also has a beautiful Star of David inlaid on the back.
Before the war, Krongold helped Michel Schwalbé — who would go on to become concertmaster of the Berlin Philharmonic — take violin lessons in the music room at his house. Later in his career, Schwalbé fondly remembered both Krongold and Zimmerman, the latter of whom gave him instruments and strings free of charge.
When World War II broke out, Krongold fled to the east and later died from illness in Tashkent, Uzbekistan. Some years later, a person in possession of his violin came to the Krongold family home in Jerusalem, asking if they knew Shimon. Knowing it was their lost uncle, they bought his violin, one of the only surviving memories of him. (JHV 2)
This violin is featured in the Epilogue of James A. Grymes' Violins of Hope.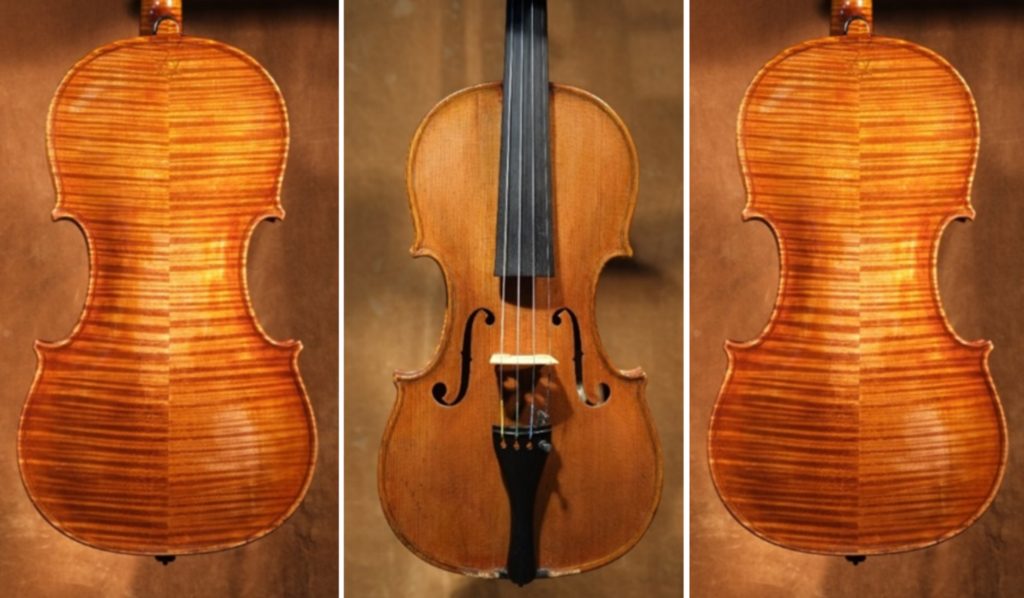 The Auschwitz Violin
This instrument was originally owned by an unnamed inmate who performed in the men's orchestra at the concentration camp in Auschwitz — and survived.
Abraham Davidowitz, a Jew who fled from Poland to Russia in 1939, encountered the instrument upon returning to postwar Germany to assist Jewish survivors living in displaced people's camps near Munich. One day, a former inmate — sad and impoverished — approached Abraham and offered him the violin.
Abraham paid $50 for the violin, hoping that his young son, Freddy, would play it when he grew up. Many years later, Freddy heard about the Violins of Hope project and donated this instrument to be fully restored. Since then, this violin has been played in concerts by musicians all over the world.
Instruments like this one were very popular with Jews in Eastern Europe, as they were relatively inexpensive and made for amateurs. This particular violin was made in Saxony or Tirol in a German workshop by J.B. Schweitzer, who was a famous maker in his day. (JHV 23)
This violin is featured in Chapter 3 of James A. Grymes' Violins of Hope.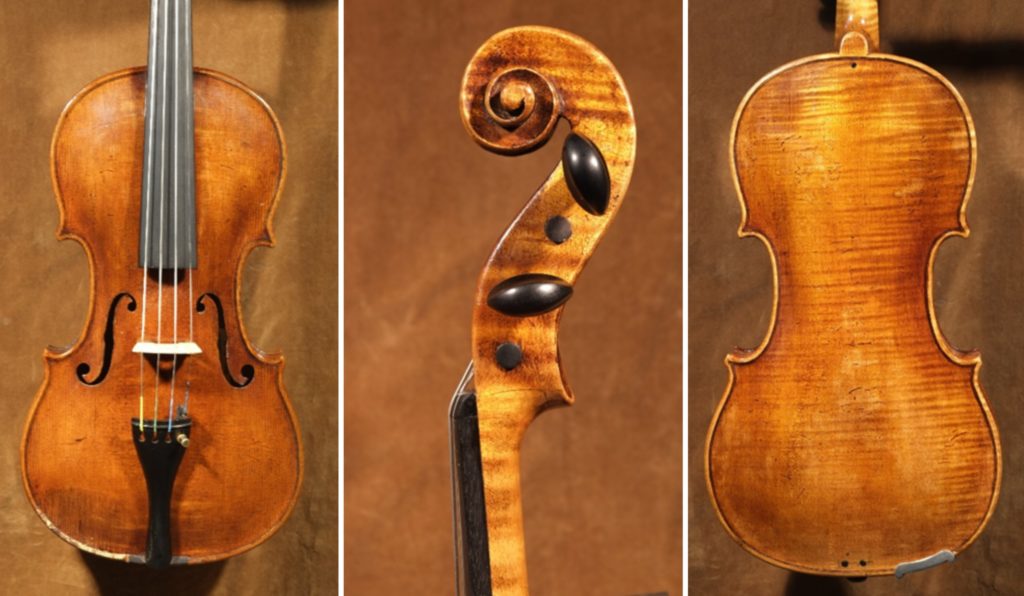 German Cello by Dr. Alfred Stelzner
This is the only cello in the Violins of Hope. It belonged to a member of the Palestine Orchestra.