Tchaikovsky and Rachmaninoff

Two of classical music's most romantic Russian composers share the stage in this concert that also presents Enrico Chapela's high-flying "Rotor", with its intensity and emotion paving the way for more ardent musical expression as the program unfolds. Both Rachmaninoff and Tchaikovsky are treasured by music-lovers for their deeply felt works that epitomize the heights and depths of human yearning and heroism. Russian-born pianist Natasha Paremski guests.

Take a sneak peek at the PROGRAM BOOK

Remember When Rock Was Young: The Elton John Tribute

Long Beach Symphony is thrilled to present an evening of the greatest hits from the legendary Sir Elton John. Get ready to sing and dance the night away to songs that have been at the top of everyone's playlist for the last five decades.

The Lobby doors will open at 6:30pm for our legendary indoor picnicking. Bring food, drinks, and dancing shoes for this amazingly fun event — and celebrate Pops Pride and the LGBTQ community.

Under the direction of Maestro Eckart Preu, and starring renowned Elton John tribute artist Craig A. Meyer on the piano and on vocals, the symphony will perform a number of Elton John and Bernie Taupin's most beloved 1970s classics (Crocodile Rock, Bennie and the Jets, Honky Cat and Candle in the Wind), as well as Tony winning Broadway hits, including Can You Feel The Love Tonight from "The Lion King."

This concert is generously sponsored by Dr. Allen and Charlotte Ginsburg

Get a head start in reading the EVENT PROGRAM

Individual tickets and sponsorship tables can be ordered by clicking on the links above. Single tickets are $350 each and sponsorship tables start at $5,000, depending on the number of guests and benefits. For more information, please contact John Cross, Director of Donor Relations, at [email protected] or 562.436.3203 ext. 222.

Empowering and celebrating a community of music

All proceeds benefit the Long Beach Symphony's artistic and education programs.

KHMERASPORA

This is a Free, community event presented by Long Beach Symphony. The evening will start at 5pm on the Long Beach Terrace Theater Plaza delighting participants in the enjoyable "Night Market" spirit. Take part in this event that includes a variety of foods for purchase, as well as entertainment, curated artistic installations on display in the theater lobby,  and good fun. Immediately following, a Pre-Concert Talk that includes the amazing creative team of KHMERASPORA will inspire audiences and give true meaning and context to the spirit of the evening. The concert starts at 7pm in the Terrace Theater.

Written and directed by the world-renowned Cambodian American rapper, praCh, KHMERASPORA is a musical performance that tells the Cambodian American experience. Featuring three world premieres by internationally renowned Cambodian composer, Chinary Ung, this artistic collaboration unites musicians from Long Beach Symphony conducted by Music Director Eckart Preu, and Cambodian instrumentalists, dancers, and singers. A documentary film by award-winning filmmaker Caylee So memorializes the project and videographer Robert Chhaing-Carleton's video will ensure that KHMERASPORA has a global presence and impact.

Artistic Partners

Musicians of Long Beach Symphony

praCh Ly, writer, producer, director, performer

Modern Apsara, Cambodian dancer ensemble

Ho Chan Ensemble, Cambodian instrumentalists

REVIEWS!

This program is part of Long Beach Symphony's Musical Bridges, a community engagement initiative that celebrates the artistry of the many diverse communities in Long Beach through free, collaborative multicultural performances.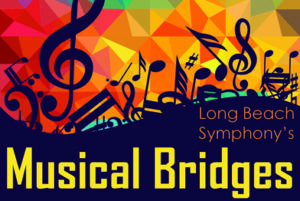 An Evening with Thelma HoustonA Night of Symphonic Rock Dance Party

Dance the night away to the greatest classic rock hits of all time, featuring an all-star six-piece rock band, and your Long Beach Symphony playing tunes by the Eagles, the Doors, Led Zeppelin, Scorpions, Starship, Journey and more!

Holiday Pops with the Camerata Singers

It's the most wonderful time of the year for families to ring in the holidays with a festive evening of your holiday favorites and sing-alongs. Guaranteed to put you and your family in the holiday spirit!

Get a sneak peek at the program book

And Watch Conductor Morihiko Nakahara's Welcome / What to Expect Message

An American in Paris

Our season finale offers audiences an infectious array of American musical genius. Award-winning pianist Michelle Cann takes center stage performing the Piano Concerto in One Movement by groundbreaking American composer Florence Price. The concert also includes brilliant 21st -century works by Brian Nabors and Nan Schwartz, along with Duke Ellington's swinging "Harlem" and George Gershwin's foot-tapping "An American in Paris." We will send you out dancing!

Carmina Burana

In this powerful evening of extremes, audiences will be transported by compositions that cross the span of times. Anticipate a highly-charged, exhilarating evening at the Terrace Theater when the symphony embarks on a thrilling musical pilgrimage through Ana Lara's passionate terrain of fire and ice; and then, Carl Orff's Carmina Burana, or "songs of Bavaria," sets 24 poetic texts from the Germany of a millennium ago to paint a vivid picture of medieval life, including religious verses, social satires, and bawdy drinking songs. This exhilarating presentation will include three soloists, the Long Beach Camerata Singers, the South Bay Children's Choir, and returning to Long Beach, the acclaimed Silver-Garburg Piano Duo. Expect an exuberant orchestral panorama of Orff's pulsating musical journey.   ~ See artist bios at the bottom of this page.

Audiences will enjoy the Classical Series fun and elegant evening surrounded by the Terrace's dazzling fountains, live ensemble in the lobby, pre-concert talk to gain greater knowledge on the evening programming, and the ability to "Sip & Enjoy" in the concert hall.  

Beethoven's 5th

Music Director Eckart Preu and the Long Beach Symphony launch the 2022-2023 season with a trio of beloved classical masterworks. Opening the concert is Sergei Prokofiev's ebullient Classical Symphony, among the composer's most popular works. Next, Concertmaster Roger Wilkie steps into the spotlight in Mendelssohn's passionate Violin Concerto. The program concludes with the world's most famous symphony, which may make you jump from your seat as it opens with perhaps the most iconic phrase in the classical repertoire: the majestic "bum bum bum BUM" of Ludwig van Beethoven's richly triumphant Symphony No.5.

Get an early start on enjoying this concert by reading the Program Notes:

Symphony No. 1 "Classical" (Prokifiev)