The Four Seasons
Feb 04, 2023 8:00 PM
Eckart Preu, Conductor
Roger Wilkie, Violin
Agnes Gottschewski, Violin
Chloé Tardif, Violin
Chyi-Yau Lee, Violin
| | |
| --- | --- |
| Mozart | Symphony No. 40 in G minor |
| Vivaldi | The Four Seasons |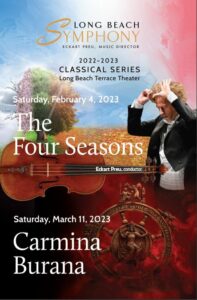 Take a peek at the Program Book and learn more.
Music For All Seasons: On this spectacular evening, Long Beach Symphony, under the direction of Maestro Eckart Preu, will rouse audiences with Mozart's Symphony No. 40 in G minor and Vivaldi's Four Seasons, a group of four violin concertos embodying each season of the year.  Each of the seasons will be exquisitely presented by Long Beach Symphony's own stellar lead violinists Roger Wilkie, Agnes Gottschewski, Chloé Tardif, and Chyi-Yau Lee. Vivaldi's best-known work, Four Seasons (1725) is the world's most popular and recognized pieces of Baroque music. Audiences will recognize the evolving sounds from movies like Tin Cup, Spy Game, A View to Kill, What Lies Beneath, White Chicks, Saved!, Pacific Heights and The Other Sister; and they will be reminded of many wedding ceremonies attended.
Over 60 years later, Wolfgang Amadeus Mozart would compose Symphony No. 40 in G minor, one of only two symphonies he wrote in minor keys reflecting the "Storm and Stress" artistic movement and showcasing darker and stronger emotions.
Audiences will enjoy the Classical Series fun and elegant evening surrounded by the Terrace's dazzling fountains, live ensemble in the lobby, Pre-Concert Talk to gain greater knowledge on the evening programming, and the ability to "Sip & Enjoy" in the concert hall.