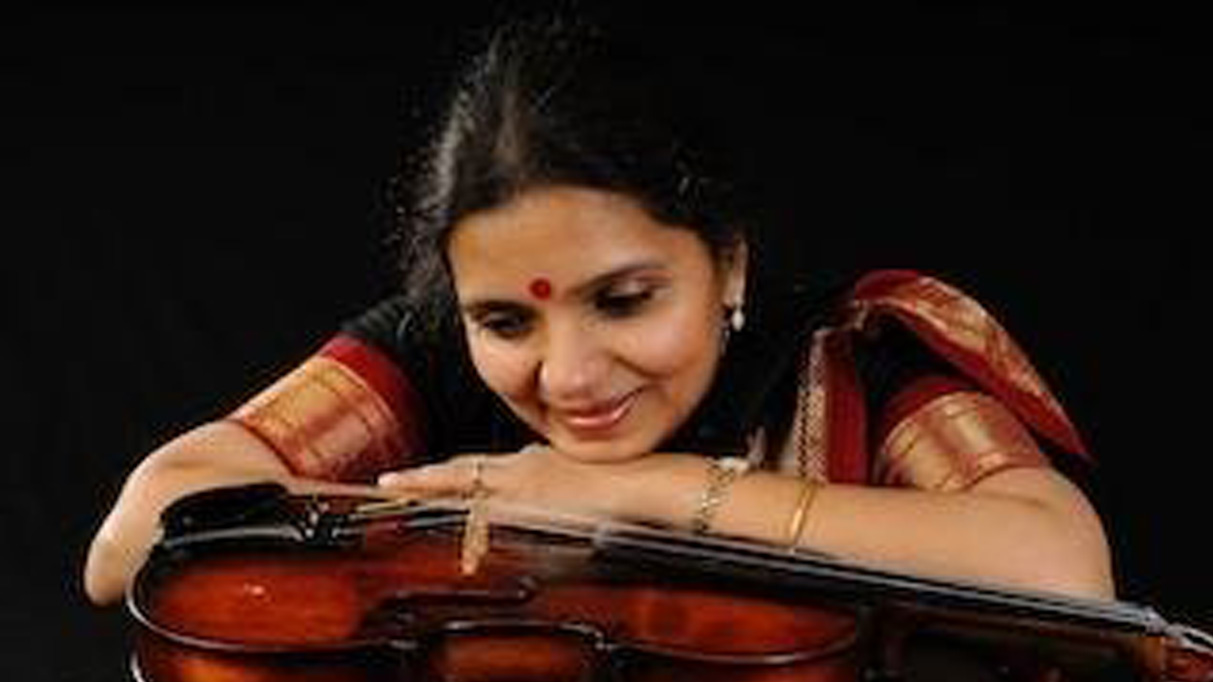 Kala Ramnath
Violin
Maestro Kala Ramnath stands among the world's finest, most inspirational instrumentalists. Her playing has been featured on the Grammy-nominated Miles from India project, and compositions of hers have appeared on the Grammy-winning album In 27 Pieces and the Kronos Quartet's 50 For The Future. The UK-based Songlines magazine hailed Kala Ramnath as one of the 50 world's best instrumentalists and selected her album, Kala, as one of its 50 best recordings.
Kala was the first Indian violinist ever to be featured in the prestigious violin periodical, The Strad, and was the subject of a solo essay in the third edition of the encyclopedia, Rough Guide to World Music. Her musical contributions have been featured in Hollywood soundtracks like the Oscar-nominated Blood Diamond and more. During her mentorship under legendary vocalist Pandit Jasraj, Kala began formulating a unique voice which came to be dubbed the 'Singing Violin'.
Kala has been bestowed the 'A Top' grade by India's Radio and Television and is one of the youngest artists to have achieved this honor. She is the recipient of many awards – notable among them are the 'Rashtriya Kumar Gandharva Sanman', 'Pandit Jasraj Gaurav Puraskar' and the 'Sur Ratna'. But recently and most notably of all, the Sangeet Natak Academy Puraskar.
Kala has performed at the most prestigious music festivals in India and appeared on world stages including the Sydney Opera House, Paris' Théâtre de la Ville, London's Queen Elizabeth Hall, San Francisco's Palace of Fine Arts, Singapore's Esplanade, New York's Carnegie Hall, the Rudolstadt Festival in Germany, and the Edinburgh Music Festival in Scotland.
She has worked with such orchestras as the London Symphony and London Philharmonic and world music legends like George Brooks, Kai Eckhart, Bela Fleck, Terry Bozzio, Giovanni Hidalgo Ustad Zakir Hussain, Abbos Kossimov, Ray Manzarek of the Doors, Edgar Meyer and Airto Moreira to name but a few. In partnership with fellow world music artists, Kala has founded the bands Raga Afrika, Global Conversation, and Yashila.
Despite her busy performing and composing schedules, she continues to teach, lecture, and conduct workshops all around the world. Recent appearances include the Rotterdam Conservatory of Music in Netherlands, University of Giessen in Germany, and the Weill Institute in association with the Carnegie Hall in New York. She is also keen to enrich the lives of under-privileged and sick children through music in the form of her foundation, 'Kalashree'.