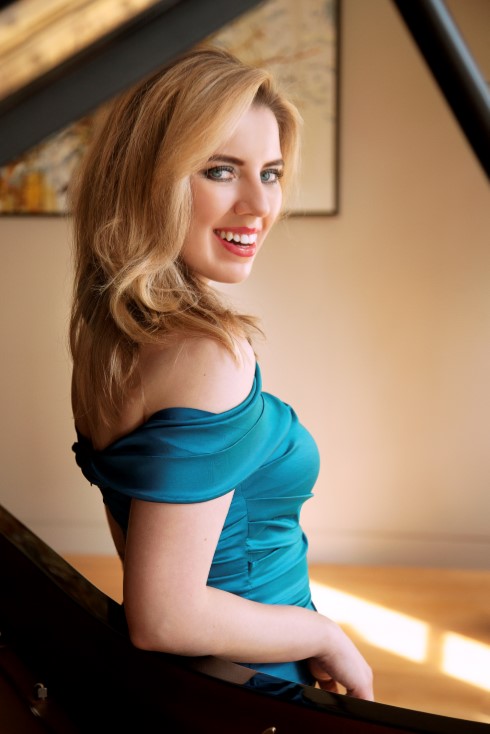 Natasha Paremski
Piano
https://natashaparemski.com
"Comparisons with Argerich should not be given lightly, but Paremski is so clearly of the same temperament and technique that it is unavoidable here." — American Record Guide
With her consistently striking and dynamic performances, pianist Natasha Paremski reveals astounding virtuosity and voracious interpretive abilities. She continues to generate excitement from all corners as she wins over audiences with her musical sensibility and flawless technique.
Born in Moscow, Natasha moved to the United-States at the age of 8 and became a US citizen shortly thereafter. She is now based in New York.
Natasha was awarded several very prestigious artist prizes at a very young age, including the Gilmore Young Artists prize in 2006 at the age of 18, the Prix Montblanc in 2007, the Orpheum Stiftung Prize in Switzerland. In September 2010, she was awarded the Classical Recording Foundation's Young Artist of the Year.
Her first recital album was released in 2011 and it debuted at No. 9 on the Billboard Traditional Classical chart. In 2012 she recorded Tchaikovsky's first concerto and Rachmaninoff's Paganini Rhapsody with the Royal Philharmonic Orchestra and Fabien Gabel on the orchestra's label distributed by Naxos.
Natasha has performed with major orchestras in North America including Dallas Symphony Orchestra, Los Angeles Philharmonic Orchestra, San Francisco Symphony Orchestra, San Diego Symphony, Toronto Symphony, Baltimore Symphony, Houston Symphony, NAC Orchestra in Ottawa, Nashville Symphony, Virginia Symphony, Oregon Symphony, Colorado Symphony, and Minnesota Orchestra. She tours extensively in Europe with such orchestras as the Royal Philharmonic Orchestra, Bournemouth Symphony Orchestra, Vienna's Tonkünstler Orchester, Royal Scottish National Orchestra, Orchestre de Bretagne, the Orchestre de Nancy, Royal Liverpool Philharmonic Orchestra, Tonhalle Orchester in Zurich, Moscow Philharmonic, under the direction of conductors including Peter Oundjian, Andres Orozco-Estrada, Jeffrey Kahane, James Gaffigan, Dmitri Yablonski, Tomas Netopil, JoAnn Falletta, Fabien Gabel, and Andrew Litton. Natasha has toured with Gidon Kremer and the Kremerata Baltica in Latvia, Benelux, the UK and Austria and performed with the National Taiwan Symphony Orchestra in Taipei.
Natasha has given recitals at London's Wigmore Hall, the Auditorium du Louvre in Paris, Schloss Elmau, Mecklenburg-Vorpommern Festival, Verbier Festival, Seattle's Meany Hall, Kansas City's Harriman Jewell Series, Santa Fe's Lensic Theater, Ludwigshafen BASF Series, Teatro Colon in Buenos Aires, Tokyo's Musashino Performing Arts Center and on the Rising Stars Series of Gilmore and Ravinia Festivals.
With a strong focus on new music, Natasha's growing repertoire reflects an artistic maturity beyond her years. In the 2010-11 season, she played the world premiere of a sonata written for her by Gabriel Kahane, which was also included in her solo album. At the suggestion of John Corigliano, Natasha brought her insight and depth to his Piano Concerto with the Colorado Symphony. In recital, she has played several pieces by noted composer and pianist Fred Hersch.
Natasha continues to extend her performance activity and range beyond the traditional concert hall. In December 2008, she was the featured pianist in choreographer Benjamin Millepied's Danse Concertantes at New York's Joyce Theater. She was featured in a major two-part film for BBC Television on the life and work of Tchaikovsky, shot on location in St. Petersburg, performing excerpts from Tchaikovsky's First Piano Concerto and other works. In the winter of 2007, Natasha participated along with Simon Keenlyside and Maxim Vengerov in the filming of Twin Spirits, a project starring Sting and Trudie Styler that explores the music and writing of Robert and Clara Schumann, which was released on DVD. She has performed in the project live several times with the co-creators in New York and the UK, directed by John Caird, the original director/adaptor of the musical Les Misérables.
Natasha began her piano studies at the age of 4 with Nina Malikova at Moscow's Andreyev School of Music. She then studied at San Francisco Conservatory of Music before moving to New York to study with Pavlina Dokovska at Mannes College of Music, from which she graduated in 2007. Natasha made her professional debut at age nine with the El Camino Youth Symphony in California. At the age of fifteen she debuted with Los Angeles Philharmonic and recorded two discs with Moscow Philharmonic Orchestra under Dmitry Yablonsky, the first featuring Anton Rubinstein's Piano Concerto No. 4 coupled with Rachmaninoff's Paganini Rhapsody and the second featuring all of Chopin's shorter works for piano and orchestra.